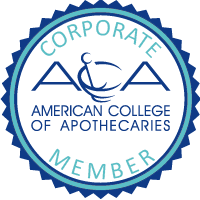 ACA's Corporate Members and Affiliates are businesses and organizations who share our dedication to advancing the profession of pharmacy.  ACA Corporate Membership benefits companies and the industry by providing a variety of ways for them to be better informed, actively participate in the association process and sell more. 
List of 2017 Corporate Members and Affiliates
AirClean® Systems
ARL Bio Pharma
Attentus Medical Sales
Attix Pharmaceuticals
B&B Pharmaceuticals
BiosRx
Boiron
Compliant Pharmacy Alliance
CompoundClaims.com
DoseLogix/Topi-Click
EXAKT Technologies, Inc.
Fagron, Inc.
Fagron Academy
FisherBroyles, LLP
FLAVORx, Inc.
Frier Levitt, LLC
Gates Healthcare Associates
Health Engineering Systems*
HUMCO Compounding
Hylant
ICA Health, LLC
In Their Face Marketing
International Journal of Pharmaceutical Compounding
ISO-MED, INC
Letco Medical LLC*
MatchRX
MEDISCA
MichRx Pharmacists Consulting Services, Inc.
PEER (Pharmacy Ethics, Education & Resources)
PennTech
Pharmacists Mutual Insurance Company
Pharmacy Podcast
Pharmacy Technician Certification Board
Pillar
Professional Compounding Centers of America*
Qid
Return Solutions
Revolution Advisors
RXinsider
Smartflow Pharmacy Workflow
Spectrum Pharmacy Products
Storey Marketing
Take Charge Lifestyle Education
The Compounders Group
Total Pharmacy Supply
Triova Pharmaceuticals
Ulta Lab Tests
Wellness Works
* REF Corporate Life Members

ACA Corporate Affiliates
CompoundingToday.com
International Academy of Compounding Pharmacists
Pharmacy Compounding Accreditation Board (PCAB)
Prescribe Wellness
RS Software
Xenex Laboratories, Inc.