Learn About Membership in ACA
Jul
8
Sat
Klouda Classic

@ Anchorage Golf Course
Jul 8 @ 6:30 pm – 11:45 pm
Have you ever dreamed of playing golf under the midnight sun?
Then join us for the 2nd Annual Klouda Classic Golf Tournament which will be held on July 8, 2017, in beautiful Anchorage, Alaska. The Anchorage Golf Course is framed by the magnificent views of the Chugach Mountain Range, the Anchorage city skyline, Cook Inlet, and Denali, the highest peak in North America. Designed by renowned architect Bill Newcomb, the 6,600-yard course includes blind tee shots and water hazards. All proceeds from the tournament will benefit the Bernie Klouda Memorial Student Scholarship Fund.
The American College of Apothecaries Research and Education Foundation recently established the Bernie Klouda Memorial Student Scholarship Fund, which will provide assistance to pharmacy students in financial need. The ACA Foundation has set a goal to raise $100,000 in order to create a permanent endowment for the fund. Your generosity in supporting this much-needed fund will ease the burden of future students and work to reduce barriers to their success.
Jul
13
Thu
LIVE Webinar: Transdermal Compounding – Addressing Veterinarian and Client Questions and Developing a Formulation
Jul 13 @ 12:00 pm – 1:00 pm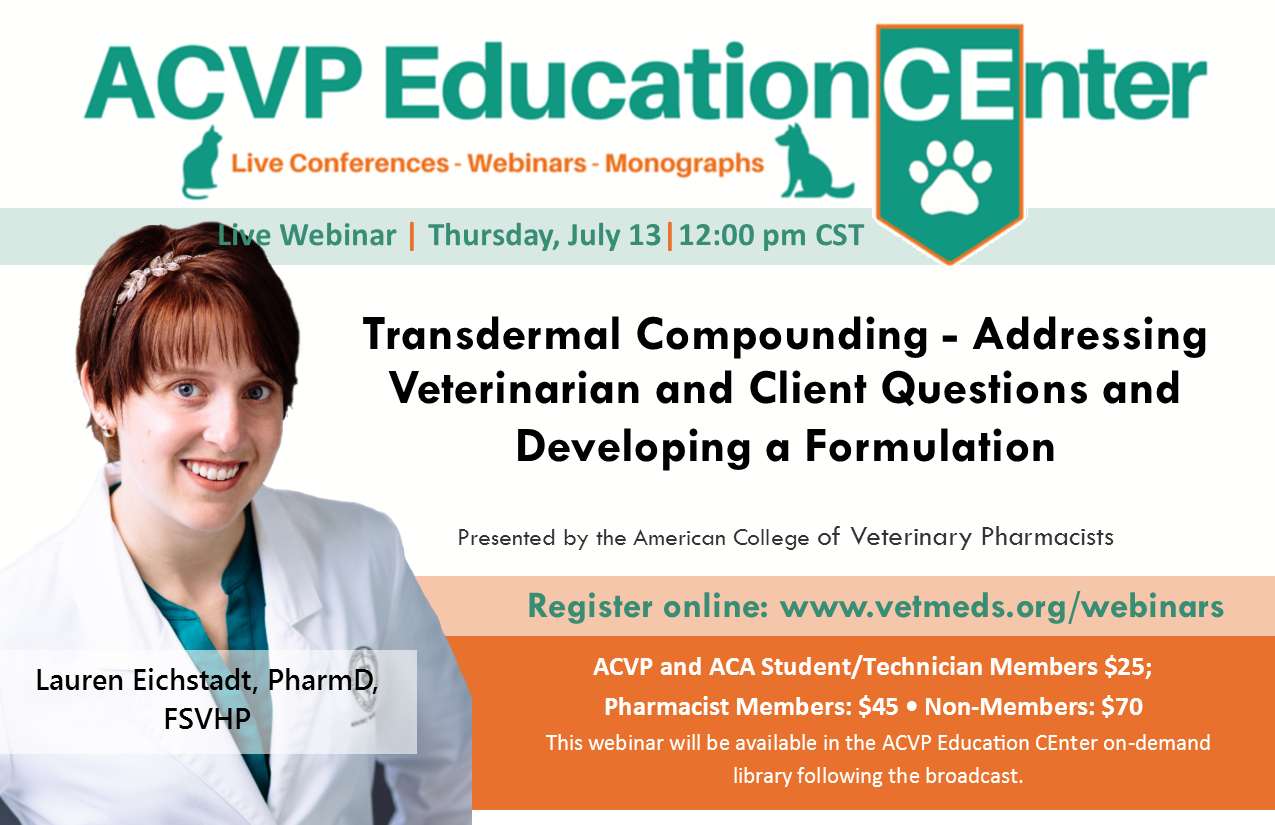 Online Registration: http://www.vetmeds.org/webinars
Summary:
Transdermal compounds are the ideal way of administering medications to many feline patients. Therefore, veterinarians and clients often have questions about these products. In addition to being able to address these questions, it's important for the compounding pharmacist to have a transdermal formulation that provides a finished product in which they can be confident of the science backing its safety and efficacy. This one-hour course is designed to address some of the questions commonly posed by veterinarians and clients and discuss important considerations when creating a formulation for a transdermal product.
Presentation Objectives:
Develop a formulation for a transdermal product
Discuss different transdermal bases and the pros/cons of each
Recall common questions posed by veterinarians and clients regarding transdermal compounds
This is a knowledge-based CE activity and is targeted to pharmacists and technicians.
The American College of Apothecaries (ACA) is accredited by the Accreditation Council for Pharmacy Education as a provider of continuing pharmacy education. ACA has accredited this program for 1.0 contact hour (0.1 CEUs) of continuing education credit for pharmacists and technicians. ACPE UAN: 0201-9999-17-047-L04-P and 0201-9999-17-047-L04-T.
If you are interested in earning credit for this program, please note that you will be asked to enter your NABP e-Profile ID and date of birth during the credit selection step of the registration process. If you have not yet registered your NABP e-Profile ID, please visit www.nabp.net.
Presenters:
Lauren Eichstadt, PharmD, FSVHP
Dr. Eichstadt graduated from the University of Findlay, College of Pharmacy in May 2015. After growing up with both parents being veterinarians and competing with her Quarter Horses at the national level, veterinary pharmacy was a natural career choice. Dr. Eichstadt started at Purdue's Veterinary Teaching Hospital as their first veterinary pharmacy resident in June 2015. Upon completion of her residency in June 2016, Dr. Eichstadt assumed a staff pharmacist position at UC Davis Veterinary Teaching Hospital.
Jul
20
Thu
Compounding for Hormone Replacement Therapy

@ Concordia University Wisconsin
Jul 20 @ 8:00 am – Jul 21 @ 5:00 pm
[button link="http://events.constantcontact.com/register/event?llr=hyaoj9gab&oeidk=a07edzlv3vi89aa86b5" color="blue" text="light"]Register Online[/button]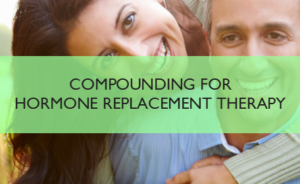 COMPOUNDING FOR HORMONE REPLACEMENT THERAPY is a 15 hour practice-­based course designed for pharmacists, technicians, marketers, and students who want to learn more about a growing segment for compounding. Physicians and other healthcare professionals are welcome to attend.
Using the basic components of compounding, HRT can be the cornerstone of a successful pharmacy with a diversified practice. Participants will gain a comprehensive knowledge of how and why a patient and practitioner should utilize HRT. Participants will be able to demonstrate a deeper understanding of a number of men's and women's health issues related to hormones, medications used to treat these issues, clinical guidelines for the treatment of these conditions, and the side effects of these medications.
View or download Course Flyer (includes Objectives, Fees, Class Policies)
View or download Course Schedule
Additional ACA Pharmacy Compounding Training Courses
A professional pharmacy organization dedicated to advancing the entrepreneurial spirit of member pharmacists through education, innovation, mentoring, fellowship and training.