Bio
Chairman
David B. Liebman, RPh, FACA, FACVP
David Liebman received his B.S. degree in pharmacy from the Medical College of Virginia School of Pharmacy. He earned a Master of Hospital Administration from Virginia Commonwealth University, and a second Master's degree and a Doctor of Public Administration from Nova University. He currently owns and operates Kaye's EPIC Pharmacy, a community and compounding pharmacy in Baltimore, Maryland. Dr. Liebman served on the USP's Expert Advisory Panel for Pharmacy Compounding and was also appointed to the USP's Compounding Monograph Committee and assisted in writing USP Chapter 795. Concurrently with his USP appointment, David served on the FDA's Pharmacy Compounding Advisory Committee. He has also served as a Clinical Adjunct for the Department of Pharmacy Practice and Service PEP Program for the University of Maryland, School of Pharmacy. His professional memberships include the Maryland Pharmaceutical Association and the American College of Apothecaries, where he served as the director of Region 3. He holds memberships in the ACVP and IACP. David Served on the National Advisory Board for the VCU-MCV School of Pharmacy.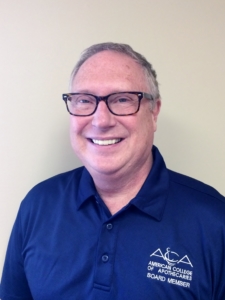 Bio
President
Steve Pryor, PharmD, FACA
Steven Pryor received his B.S. degree in pharmacy in 1981 and Doctor of Pharmacy degree from Southwestern Oklahoma State University in 2005 and is currently Managing Partner of Scheffe Prescription Shop in Enid, Oklahoma.  His professional interests are focused on patient care in community retail pharmacy. His local memberships include Enid Rotary Club, Enid Chamber of Commerce, and Main Street Enid.  He is also member of the Oklahoma Pharmacists Association and National Community Pharmacists Association. He has served as district director of both the Oklahoma Pharmacist Association and Kansas Pharmacist Association. Steven has served as District 8 director for ACA, Treasurer for ACA, Chairman for Enid Chamber of Commerce, and President for the Oklahoma Pharmacists Association. Steven has been a member of ACA for over 25 years. Steven has been married to wife Donna for 38 years, and has three children.
Bio
President-Elect
Dixie Leikach, RPh, MBA, FACA
Dixie Leikach and her husband, Neil, opened their first pharmacy, Catonsville Pharmacy, in February of 1999. Finksburg Pharmacy followed in 2003 and Paradise Professional Pharmacy opened in 2007. In June 2018, Dixie was honored as the Maryland recipient of the Bowl of Hygeia.  Recognizing the need for increased awareness of the role of ethics in pharmacy, Dixie founded Pharmacy Ethics, Education and Resources, Inc. (PEER), a 501(c)(3) non-profit dedicated to educating health care professionals on ethics in order to improve patient safety. Dixie has also created the PEER Ethics Continuing Education Series and certificate program for individuals. A 1992 graduate of the University of Maryland School of Pharmacy, Dixie is a Past President of the Lambda Kappa Sigma International Pharmacy Fraternity, the Maryland Pharmacists Association, and the University of Maryland School of Pharmacy Alumni Association. Dixie has received multiple state and national pharmacy honors and awards since graduation. As an ACA Fellow, Dixie has served the College through roles on the ACA Board of Directors and on multiple committees, including admissions, membership and programs.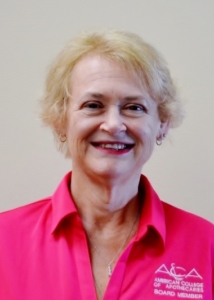 Bio
Vice-President
Linda F. McElhiney, PharmD, RPh, FACA, MSP, FIACP, FASHP, DPLA
Dr. McElhiney is the Compounding Pharmacist for Indiana University Health in Indianapolis, Indiana. She oversees the entire compounding and repackaging operations for seven hospitals and the outpatient clinics within the IU Health system and central Indiana. In addition to her compounding responsibilities with IU Health, Dr. McElhiney writes articles pertaining to hospital compounding for the International Journal of Pharmaceutical Compounding and has been an author and contributing author in several pharmacy and medical textbooks. She served on the USP Expert Committee for Compounding for the 2010-2015 cycle. Dr. McElhiney earned a B.S. in Pharmacy from Purdue University in 1984. She completed a nuclear pharmacy internship in 1983 prior to graduation. Upon graduation and prior to becoming a compounding pharmacist, she worked in several areas of pharmacy: nuclear, retail, hospital, and homecare. While working full-time at IU Health, Dr. McElhiney earned a Pharm.D. from the University of Florida through the Working Professionals Pharm.D. (WPPD) program in 2002. In 2014, she earned her Masters from the University of Florida Master in Pharmaceutical Policies and Outcomes. In 2012, Dr. McElhiney was inducted as a full fellow into the American College of Apothecaries. She was also awarded the 2012 Scheffe Scholarship. In 2016, she received the ACA Member of the Year Award. She is also an active member in the American Society of Health-System Pharmacists (ASHP) and serves on the committee to revise the ASHP sterile compounding guidelines. In 2009, she was inducted as a full fellow into ASHP. In 2012, she completed the ASHP Pharmacy Leadership Academy. Dr. McElhiney  is a lifetime member of Kappa Epsilon and has held several offices and national committee chairmanships. She has also completed two terms on the International Academy of Compounding Pharmacists (IACP) Board of Directors.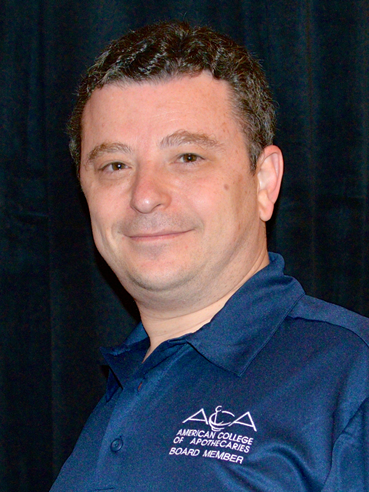 Bio
Treasurer
David Stahlberger, RPh, FACA (2019*)
David Stahlberger received his B.S. degree in pharmacy from the University of Rhode Island in 1990. Between 1990 and 2001 he worked as staff pharmacist until the entrepreneurial bug bit him in 2001 when he established Pompton Pharmacy.  In addition to his responsibilities as a pharmacist, manager and owner, Stahlberger  is a preceptor for Rutgers University,  St. John's University as well as the University of Rhode Island.  David served as ACA Regional Director for Region 2 for several years.  He is a former board member and treasurer of the Garden State Pharmacy Owners.
Bio
ACVP President
Gigi Davidson, BSPh, DICVP, FACVP
Gigi Davidson is the former Director of Clinical Pharmacy Services at the North Carolina State University College of Veterinary Medicine where she practiced veterinary pharmacy since 1983.  Ms. Davidson received her BS in Pharmacy from The University of North Carolina at Chapel Hill in 1983 and subsequently was awarded Diplomate status in the International College of Veterinary Pharmacy in 2001. Gigi is a past President of the Society of Veterinary Hospital Pharmacists and currently serves as the Government and Regulatory Affairs Liaison for that organization, and is the President-Elect for the American College of Veterinary Pharmacists. Ms. Davidson is the Chair of the United States Pharmacopeia Compounding Expert Committee for the 2010-2020 Cycle and leads the effort to develop quality standards for compounded medicines for both human and animal patients. Ms. Davidson holds adjunct faculty appointments at the UNC Eshelman School of Pharmacy where she teaches a course on veterinary pharmacotherapy. Ms. Davidson has many publications in peer-reviewed scientific journals and her primary area of research interest is quality, stability, safety, efficacy and disposition of compounded preparations in non-human species.  In her spare time, Ms. Davidson is a hobbyist beekeeper and practices Biodynamic Beekeeping Principles in her apiary.
Alaska, Arizona, California, Hawaii, Idaho, Nevada Oregon and Washington
Susan Bartlemay
Executive Vice President / CEO
Dana D. Easton
Vice President of Operations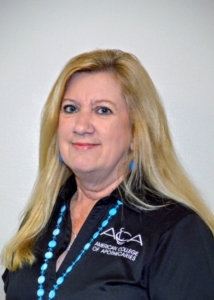 Linda L. Cathey
Director of Membership Services
Susan M. Decker
Director of Conferences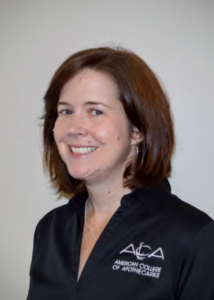 Terry Bondurant
Director of Marketing & Communications
Donna Reagan
Director of CE Accreditation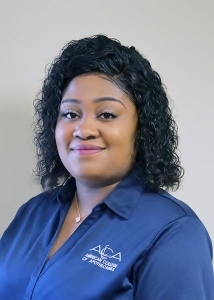 Taisha Cunningham, CPhT
Lab Coordinator / Administrative Assistant