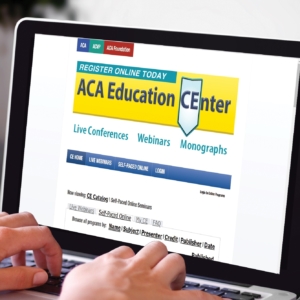 The American College of Apothecaries is the source for continuing education and professional development opportunities for Pharmacists, Pharmacy Technicians, Marketers, and Students. The ACA Education CEnter provides online access to the latest webinars and monographs on subjects important to career development. ACA and ACVP Fellows and Members receive discounts on the ACA Education CEnter materials.
Self-Paced Online Seminars offered 24/7 — ACA Webinars are available in the on-demand library for a minimum of six months after the original broadcast date. Also check out the ACVP Webinar Topics and the additional on-demand webinars available through our online library.
Stressed? The Ethics of Workplace Stress and Strategies to Copy
Dixie Leikach, RPh, MBA, FACA
Originally aired Tuesday, August 28
ACA Wellness + Nutrition Solutions Seminar 
Presentations available individually and as a bundle
Originally presented Thursday, May 4, 2018
The Effect of Ethics on Patient Safety in Pharmacy
Dixie Leikach, RPh, MBA, FACA
Originally Aired December 2015
Design & Engineering Consideration for USP <800> Compliance
Bryan Prince
Originally aired Thursday, June 14, 2018
Achieving USP <797> and USP <800> Hood Compliance in Your Facility
Krystina Ashe
Originally aired Thursday, April 26, 2018
NEW RULES FOR CPE MONITOR REPORTING
ACPE-accredited providers of continuing pharmacy education announce new rules regarding reporting of CEUs to the NABP eProfile ID/CPE Monitor data base.
Effective May 1, 2014 all ACPE-accredited providers have 60 days post the CPE activity participation date to upload the participant credit into CPE Monitor.  The provider must upload the participant information 60 days from the date the participant completed the CPE activity.  This applies to all CPE activities:  live, internet-based, and home-study articles.
What this means for you as the participant of any CE activity, make sure you give correct information regarding birthdates and NABP eProfile ID numbers on all form fields when registering for a CE activity.  It is the responsibility of every CE participant to give the provider the correct information or CE credits will not be recorded on your NABP eProfile.