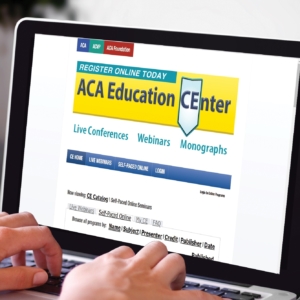 The American College of Apothecaries is the source for continuing education and professional development opportunities for Pharmacists, Pharmacy Technicians, Marketers, and Students. The ACA Education CEnter provides online access to the latest webinars and monographs on subjects important to career development. ACA and ACVP Fellows and Members receive discounts on the ACA Education CEnter materials.
Self-Paced Online Seminars offered 24/7 — ACA Webinars are available in the on-demand library for a minimum of six months after the original broadcast date. Also check out the ACVP Webinar Topics and the additional on-demand webinars available through our online library.
2019 ACA | ACVP Annual Conference & Expo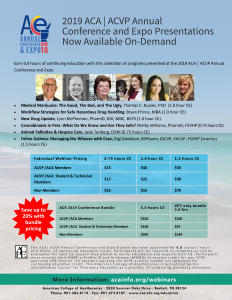 Earn up to 6.0 hours of continuing education with this collection of programs presented at the 2019 ACA | ACVP Annual Conference & Expo. Webinars are available individually and as a discounted bundle.
Medical Marijuana: The Good, The Bad, and The Ugly, Thomas C. Kupiec, PhD (1.0 hour CE)
Workflow Strategies for Safe Hazardous Drug Handling, Bryan Prince, MBA (1.0 hour CE)
New Drug Update, Lynn McPherson, PharmD, MA, MDE, BCPS (1.0 hour CE)
Cannabinoids in Pets: What Do We Know and Are They Safe? Shelby Williams, PharmD, FSVHP (0.75 hours CE)
Animal Palliative & Hospice Care, Jade Tenberg, DVM (0.75 hours CE)
Feline Asthma: Managing the Wheeze with Ease, Gigi Davidson, BSPharm, DICVP, FACVP, FSVHP Emeritus (1.5 hours CE)
ACA Wellness + Nutrition Solutions Seminar 
Presentations available individually and as a bundle.
The Current State of the Community Pharmacy: What's Around the Corner
The Critical Role of Adrenal Hormones in Immunity
The Benefits of a Whole-Food, Plant-Based Diet Without Oil
Providing Pharmacy Services to Bariatric Surgery Patients
Obesity Treatment and the Role That a Pharmacist Can Play
Originally presented Thursday, May 4, 2018
ACA Fall Pharmacy Conference  
Presentations available individually and as a bundle
Marketing Your Compounding Pharmacy
Drug Compounding Policy: What's New, Why it Matters and How to Influence it
Accreditations, Inspections, Compounding and Specialty Pharmacy
ACA SECTION 1557 – ARE YOU IN COMPLIANCE? Legal Requirements Your Pharmacy Needs to Know About Nondiscrimination
Originally presented August 24-25, 2018
NEW RULES FOR CPE MONITOR REPORTING
ACPE-accredited providers of continuing pharmacy education announce new rules regarding reporting of CEUs to the NABP eProfile ID/CPE Monitor data base.
Effective May 1, 2014 all ACPE-accredited providers have 60 days post the CPE activity participation date to upload the participant credit into CPE Monitor.  The provider must upload the participant information 60 days from the date the participant completed the CPE activity.  This applies to all CPE activities:  live, internet-based, and home-study articles.
What this means for you as the participant of any CE activity, make sure you give correct information regarding birthdates and NABP eProfile ID numbers on all form fields when registering for a CE activity.  It is the responsibility of every CE participant to give the provider the correct information or CE credits will not be recorded on your NABP eProfile.