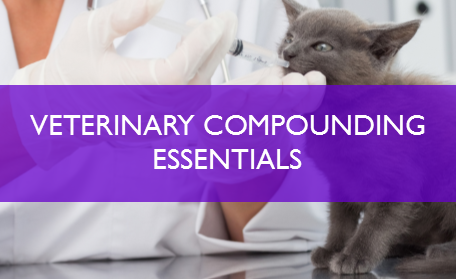 REGISTER EARLY & SAVE $70!
Special promotional pricing will be automatically applied to all registrations completed six weeks before the beginning of class. No code necessary; does not apply to student pharmacist rate. The best value in compounding training just got a little better.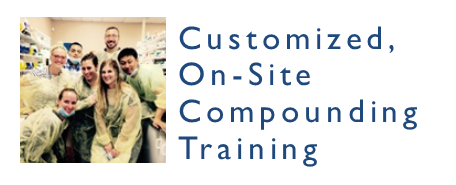 Your Site. Your Staff. Your Schedule
The ACA can present any of the current compounding training courses or business management training on location, or design a custom class (with or without CE) to meet a pharmacy's needs.
VETERINARY COMPOUNDING ESSENTIALS is an accredited 15 hour (1.5 CEUs) knowledge / application-based course that introduces pharmacists, pharmacy technicians, and marketers to veterinary pharmacy compounding. The program provides fundamental techniques for effectively growing the veterinary compounding practice, including calculations, proper safety practices, hands-on compounding, and marketing.
Our low instructor/participant ratio allows for individual attention and interaction. The program is structured to demonstrate skills that can be immediately implemented by participants.
Learn about the ACA Compounding Training Instructors at acainfo.org/instructors.
*Funding for this course is provided in part by an unrestricted educational grant from the ACA Research and Education Foundation.
DAY ONE
Classroom
Welcome, Introduction & Lecture/Discussion
Overview of Veterinary Pharmacy and Compounding
Disease States
Opportunities for Practice Growth
Regulatory Considerations
Safety in Compounding
Lectures/Discussion
Calculations
Dosage Forms
Beyond-Use Dating
Lab
Compounding Veterinary Dosage Forms (Chews, Poloxamer, Suppositories, Suspensions)
DAY TWO
Classroom
Lectures/Discussion
Literature Resources
Patient Education
Provider Education
Lectures/Discussion
Provider Education
Marketing
Lab
Compounding Veterinary Dosage Forms (Solutions, Transdermal Gels)
Veterinary Compounding Essentials – Introduction to Veterinary Compounding Essentials (3h)
UAN: 0201-0000-23-029-L07-P/T  |  Application Based
Distinguish the characteristics of food, performance, and companion animals
Demonstrate knowledge of regulatory requirements and professional standards that affect veterinary compounding
Demonstrate how to verify a veterinary prescription for completeness
Identify useful veterinary drug information resources
Describe drugs, excipients, vehicles, flavors and preservatives that may be toxic to animals
Review compounded dosage forms and administration devices that are unique to veterinary pharmacotherapy
Demonstrate the ability to perform calculations necessary to compound veterinary preparations
List key principles of marketing for veterinary compounding services
Veterinary Compounding Essentials – Veterinary Compounding Regulations and Position Statements (2h)
UAN: 0201-0000-23-030-L03-P/T  |  Knowledge Based
Compare and contrast companion animals to performance animals to food-producing animals
Define the veterinarian-client-patient-relationship (VCPR)
List agencies that regulate drug use in non-human species
Describe regulatory classes for drugs used in animals
Review important veterinary drug regulations and position statements and their impact on veterinary pharmacy
List required elements for veterinary prescriptions and labels
Describe methods of verification for veterinary prescriptions
Review generic substitution for non-human patients
List regulatory information resources for veterinary pharmacists
Veterinary Compounding Essentials – Veterinary Drug Information Resources (2h)
UAN: 0201-0000-23-031-L04-P/T  |  Knowledge Based
Define veterinary professional credentials and their abbreviations to aid in evaluating prescriptions and compounding literature
List veterinary drug information reference books that support understanding of veterinary pharmacotherapy
Describe veterinary drug information electronic databases and platforms
Review veterinary disease state information resources to understand veterinary disease state management
Recall veterinary journals that publish peer-reviewed scientific information for veterinary pharmacotherapy including compounded preparations
Identify veterinary professional organization listservs that support veterinary pharmacists
Veterinary Compounding Essentials – Veterinary Toxicology for Compounding Practice (3h)
UAN: 0201-0000-23-032-L07-P/T  |  Application Based
Summarize the species-specific risk of susceptibility to toxic substances in dogs and cats
Describe toxic drugs, excipients, and foods known to cause morbidity and mortality in dogs and cats
Identify veterinary toxicological information resources for pharmacists including databases, textbooks, and professional organizations
Review elements of a checklist to prevent and detect potential toxin exposure in pets
Veterinary Compounding Essentials – Principles of Veterinary Compounding for Dosage Forms (3h)
UAN: 0201-0000-23-033-L07-P/T  |  Application Based
Describe standard compounded veterinary dosage forms including oral suspensions, oral pastes, oral capsules, medicated treats, transdermal gels, rectal therapies, and topical therapies
Review veterinary specific dispensing and administration devices
Demonstrate administration techniques for non-human patients
Discuss formula and component selection for veterinary compounds
List basic inventory and equipment considerations
Veterinary Compounding Essentials – Marketing Veterinary Compounding Services (2h)
UAN: 0201-0000-23-034-L04-P/T  |  Application Based
Discuss marketing techniques for growing a veterinary compound practice
Discover who are your customers
Identify ways to maximize your store traffic
Define types of marketing
ACA | ACVP | PPHI Member
MEMBER BENEFIT: Save $100 when you add a 2nd attendee from the same pharmacy for only $1045.
ACA | ACVP | PPHI Student Pharmacist Member
Non-Member Student Pharmacist
REGISTER EARLY & SAVE $70!
Special promotional pricing will be automatically applied to all registrations completed six weeks before the beginning of class. No code necessary; does not apply to pharmacy student fees, EVP, or ACA Compound Academy. The best value in compounding training just got a little better.
Class Dates & Registration
For assistance registering for a compounding training course or to check availability for a course that is closed to online registration, call 901-383-8119 and leave a message or e-mail training@acainfo.org.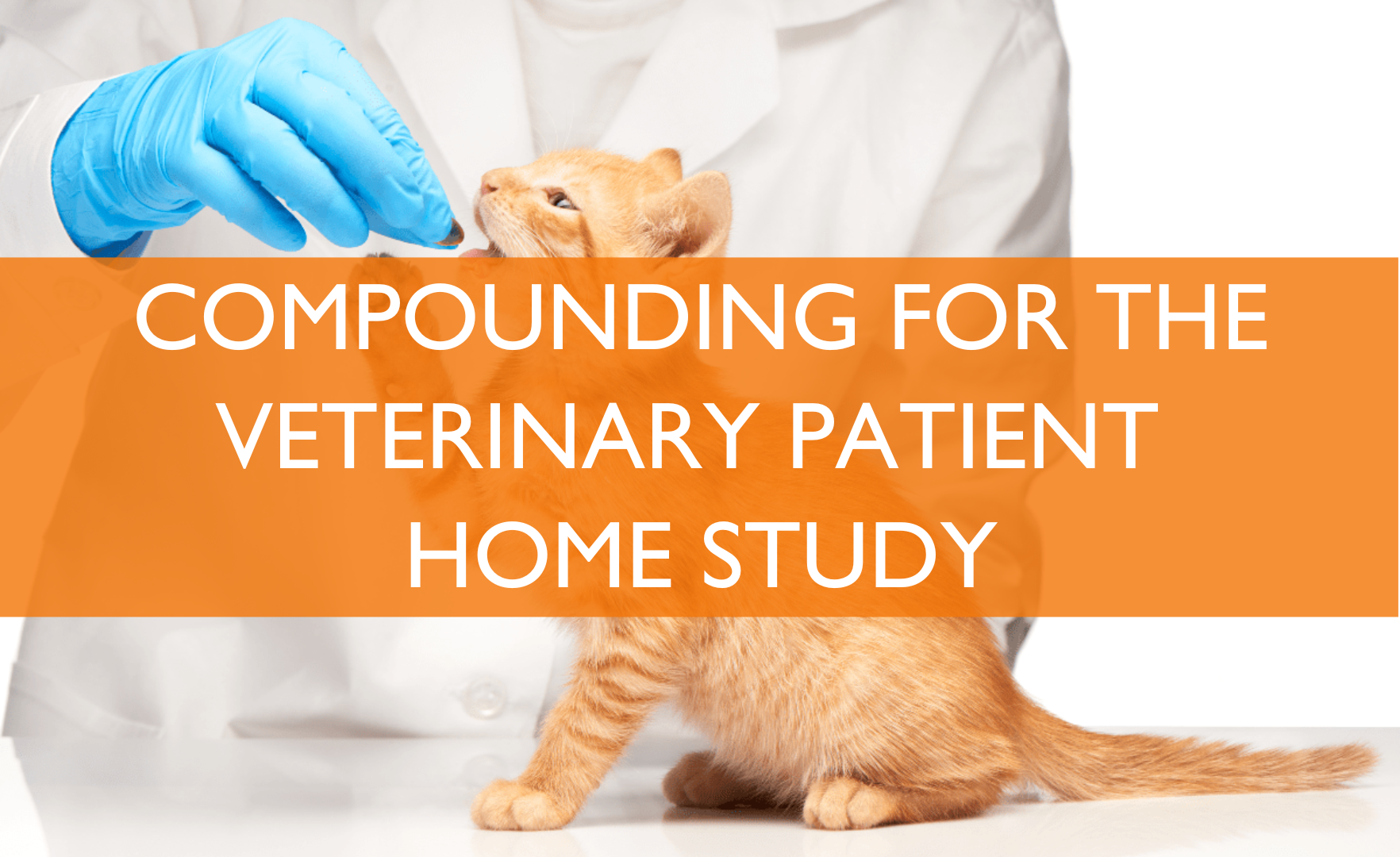 Also Available from American College of Apothecaries:
Compounding for the Veterinary Patient Home Study is a 6–hour knowledge-based home study learning program that provide participants to review the regulations of veterinary medicine and recommendations for veterinary compounding, as well as the challenges in compounding for a veterinary patient. Participants will explore ways to help patients and owners by adjusting dosage strength, customizing dosage forms, and tailoring ingredient selection by animal species.  Participants will review important compounding principles, including the benefits and risks of different routes of administration, the appropriate application of excipients and the use of flavoring agents.
Attendee Cancellation Policy
If attendee cancels 30+ days before event – full refund less 5% administrative fee
If attendee cancels 29-14 days before event – 50% refund
If attendee cancels 13-1 days before event – no refund
On occasion, ACA may need to reschedule or cancel a class due to circumstances beyond our control, and attendees should plan travel accordingly. We recommend purchasing travel insurance or booking with an airline that will allow you to reschedule your flight if the need arises.
Travel & Hotel Accommodations
Course participants are responsible for their own reservations and charges. The ACA National Training Laboratory is located at 2830 Summer Oaks Dr., Bartlett, TN 38134. Special rates for course participants are available at a selection of nearby hotels; information is available at www.acainfo.org/hotels or contact the ACA office at 901-383-8119 or training@acainfo.org.
ENROLLMENT POLICY
The mission of the American College of Apothecaries is to conduct educational programs, facilitate networking and mentoring, and promote leadership that empowers pharmacy professionals to provide exceptional patient care. Enrollment in ACA Pharmaceutical Compounding Training Courses is not limited to members of ACA. Participants registering as a student pharmacist must be currently enrolled in an accredited school of pharmacy and be able to provide proof of status. Class spaces for student pharmacists may be limited.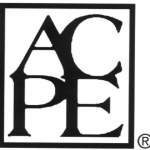 Veterinary Compounding Essentials, a knowledge/application-based course, has been approved for 15 contact hours (1.5 CEUs) of continuing education credit being obtained in the live programming with multiple ACPE Universal Activity Numbers above (refer to Learning Objectives). These UANs have an initial release date of 4/28/2023 and an expiration date of 4/28/2026. Attendees will be required to complete an evaluation form at the completion of the program. Attendees requesting CE will be required to provide their NABP e-Profile ID and birthdate (MMDD) to receive credit for any ACPE-accredited CPE session. Due to new ACPE regulations, if required information is received after 60 days, a $250 late fee will be assessed before CE will be processed. Any unclaimed credit with a date of participation that is 6 months and older will not be eligible for processing.​​​​​​​
The American College of Apothecaries, Inc. is accredited by the Accreditation Council for Pharmacy Education as a provider of continuing pharmacy education. All sessions carrying the ACPE program number are approved for continuing education credit.