The ACA | ACVP | PPHI Online Education CEnter is the source for continuing education and professional development opportunities for Pharmacists, Pharmacy Technicians, Marketers, and Students. The ACA | ACVP | PPHI Online Education CEnter provides access to the latest webinars, home studies and certificate programs covering topics important to career development. ACA and ACVP Fellows and Members and PPHI Supporters receive discounts on the ACA | ACVP | PPHI Online Education CEnter materials.
Free CE!
Each quarter, ACA Fellows are offered the opportunity to complete a pre-selected CE program at no charge.
Canadian and Other International Pharmacists and Pharmacy Technicians
If you do not have an NABP number, select "International Pharmacist" or "International Pharmacy Technician" when registering for courses using Lecture Panda. If you need assistance or have additional questions, please contact training@acainfo.org.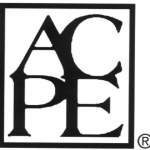 Attendees requesting CE will be required to provide their NABP e-Profile ID and birthdate (MMDD) to receive credit for any ACPE-accredited CPE session.
The American College of Apothecaries, Inc. is accredited by the Accreditation Council for Pharmacy Education as a provider of continuing pharmacy education. All sessions carrying the ACPE program number are approved for continuing education credit.