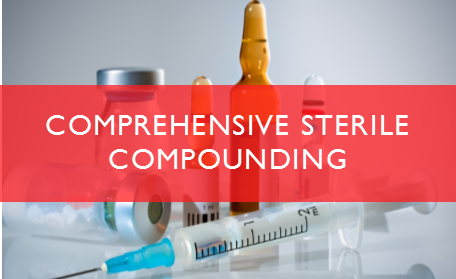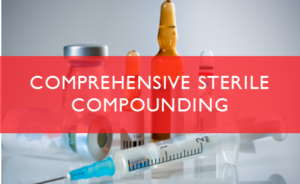 REGISTER EARLY & SAVE $70!
Special promotional pricing will be automatically applied to all registrations completed six weeks before the beginning of class. No code necessary; does not apply to student pharmacist rate. The best value in compounding training just got a little better.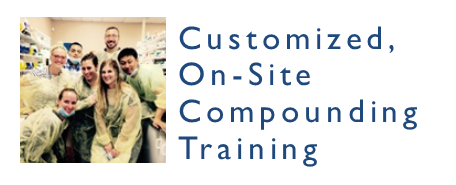 Your Site. Your Staff. Your Schedule
The ACA can present any of the current compounding training courses or business management training on location, or design a custom class (with or without CE) to meet a pharmacy's needs.
**Learning Materials will be updated to include the revised USP Chapter <797> Standards**
COMPREHENSIVE STERILE COMPOUNDING is an accredited 3-day, 20-hour (2.0 CEUs) practice-based certificate program designed for pharmacists and technicians who are experienced in compounding.
Completion of the Fundamental Compounding Course is recommended. Physicians and other health care professionals are welcome to attend. This course will also provide initial aseptic training for pharmacists and technicians required by their state board of pharmacy in order to compound sterile preparations.
Participants are instructed in the proper aseptic techniques for preparations and quality control tests to prepare compounded sterile preparations.
Participants will work in a simulated sterile environment in a USP 795 laboratory, focusing on the aseptic process and practical knowledge that meet the requirements for USP 797.
During the third day, a non-sterile to sterile media-fill test process will be conducted in a simulated clean room. Attendees will also learn how to prepare non-sterile to sterile compounds, including sterile solutions and manipulation of injectable solutions, cleaning and disinfection methods. Practical considerations about USP <800> will be discussed to facilitate the understanding of exposure routes and risks for those who handle hazardous drugs.
Our low instructor/participant ratio allows for individual attention and interaction. The program is structured to demonstrate skills that can be immediately implemented by participants. Learn about the ACA Compounding Training Instructors at acainfo.org/instructors.
Physicians and other health care professionals are welcome to attend.
*Funding for this course is provided in part by an unrestricted educational grant from the ACA Research and Education Foundation.
DAY ONE
Classroom
Lecture: Definitions, Aseptic Technique (Needles and Syringes), Documentation, Standard Operating Procedures
Discussion and video: Hand Washing and Proper Garbing
Lab
Demonstration and Exercise
Proper Garbing
Hand Washing
Hood Prep
Facility Design and Layout
Validation and Documentation
Primary and Secondary Engineering Controls
Discussion and Demonstration
Supply Selection and Staging
Needle Size and Syringe Selection
Hand Position and Material Placement in ISO Class 5
Hands-On Experience
Work Area Prep
Manipulations: vials, ampules, bags, etc.
DAY TWO
Classroom
USP 797 Why and How to Use It
USP 797 Categories and Responsibilities
Non-viable and Viable Contamination
Quality Assurance/Quality Control/Quality Improvement
Personnel: Portfolios or Employee File
Documentation and Process Validation
Environmental Monitoring and Testing
Environmental Controls
Lab
Personnel Validation
Hands-On Experience:
Gentamicin Ophth. Solution (from inj)
Simulated Process: 30 x 0.05 ml PFS
DAY THREE
Classroom
Discussion: Sterilization Methods
Filtration

Filter Types and Applications

Steam: Autoclave
Dry Heat: Convection Oven
SOP
Discussion/Demonstration: Validation Methods
Filters: Bubble Point Test
Autoclave: Biological Indicators/Steam Indicators
Convection Oven: Biological Indicators
Filter Selection: Membrane Compatibility, Features, Benefits
Chemicals
Final Check and Testing
Lab
Prepare Media for Media Fill
Prepare High-Risk Formula and Autoclave
Cleanroom
Perform Media Fill
At the conclusion of Comprehensive Sterile Compounding, the participating pharmacist or technician will be able to:
Demonstrate aseptic technique by successfully performing gloved fingertip sampling and media-fill per USP 797 chapter
Describe a quality assurance program including proficiency in core competencies, personnel validation, processes with evaluation, documentation, quality control and quality improvement
Discuss Compounded Sterile Preparations Category 1, Category 2 and Category 3 based on the conditions under which they are made, probability for microbial growth, and the time period within which they must be used, per USP 797
Describe the various methods of sterilization, according to the USP 797, the process for validation and storage requirements
Show how to write and implement a sterile compounding program compliant with USP 797
Perform proper aseptic hand washing techniques and gowning procedures
Prepare sterile preparations using different sterilization methods, including autoclave, dry heat sterilization, and sterilization by filtration
Demonstrate how to maintain appropriate cleanliness conditions working in a horizontal and vertical laminar flow hoods
Demonstrate filter membrane and validate filter integrity using bubble point testing
Perform appropriate placement of materials and hands during compounding process, so that all critical sites receive first air in an ISO Class 5 environment
Describe compounded sterile preparations strength through Certificate of Analysis and other reference materials
Discuss site-specific Standard Operating Procedures
Prepare compounded sterile preparations using aseptic techniques
Prepare a non-sterile to sterile media-fill test, following the requirement in current USP <797> standard
Discuss engineering controls according to USP <800>
Identify hazardous drugs according to NIOSH (National Institute for Occupational Safety and Health)
Discuss exposure routes and risks for those who handle hazardous drugs
Describe good compounding process and practices, and personnel protective equipment (PPE) according to NIOSH guidelines to handle hazardous drugs and USP <800>
REGISTER EARLY & SAVE $70!
Special promotional pricing will be automatically applied to all registrations completed six weeks before the beginning of class. No code necessary; does not apply to pharmacy student fees, EVP, or ACA Compound Academy. The best value in compounding training just got a little better.
Class Dates & Registration
For assistance registering for a compounding training course or to check availability for a course that is closed to online registration, call 901-383-8119 and leave a message or e-mail training@acainfo.org.
Attendee Cancellation Policy
If attendee cancels 30+ days before event – full refund less 5% administrative fee
If attendee cancels 29-14 days before event – 50% refund
If attendee cancels 13-1 days before event – no refund
On occasion, ACA may need to reschedule or cancel a class due to circumstances beyond our control, and attendees should plan travel accordingly. We recommend purchasing travel insurance or booking with an airline that will allow you to reschedule your flight if the need arises.
Travel & Hotel Accommodations
Course participants are responsible for their own reservations and charges. The ACA National Training Laboratory is located at 2830 Summer Oaks Dr., Bartlett, TN 38134. Special rates for course participants are available at a selection of nearby hotels; information is available at www.acainfo.org/hotels or contact the ACA office at 901-383-8119 or training@acainfo.org.
ENROLLMENT POLICY
The mission of the American College of Apothecaries is to conduct educational programs, facilitate networking and mentoring, and promote leadership that empowers pharmacy professionals to provide exceptional patient care. Enrollment in ACA Pharmaceutical Compounding Training Courses is not limited to members of ACA. Participants registering as a student pharmacist must be currently enrolled in an accredited school of pharmacy and be able to provide proof of status. Class spaces for student pharmacists may be limited.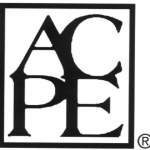 Comprehensive Sterile Compounding, a practice-based certificate program, has been approved for 20.0 contact hours (2.0 CEUs) of continuing education credit being obtained in the live programming with ACPE Universal Activity Numbers 0201-0000-20-001-L07 P/T. This UAN has an initial release date of 02/06/2020 and an expiration date of 02/06/2023. Attendees will be required to complete an evaluation form at the completion of the program. Attendees requesting CE will be required to provide their NABP e-Profile ID and birthdate (MMDD) to receive credit for any ACPE-accredited CPE session. Due to new ACPE regulations, if required information is received after 60 days, a $250 late fee will be assessed before CE will be processed. Any unclaimed credit with a date of participation that is 6 months and older will not be eligible for processing.​​​​​​​
The American College of Apothecaries, Inc. is accredited by the Accreditation Council for Pharmacy Education as a provider of continuing pharmacy education. All sessions carrying the ACPE program number are approved for continuing education credit.