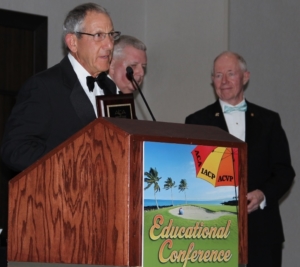 Fort Lauderdale, FL, February 27, 2015: The American College of Apothecaries presented the 2014 Member of the Year Award to Ben Smith, of Uxbridge, Ontario at the College's 2015 Annual Educational Conference at the Marriott Harbor Beach Resort in Fort Lauderdale, Florida. The presentation was made during the Presidents Banquet Friday evening, February 27th. This award, established in 2013, recognizes one ACA member, on an annual basis, for exceptional accomplishment and effort in promoting the College and community pharmacy.
Ben Smith graduated from pharmacy school at the University of Toronto in 1966 and purchased his first pharmacy in 1979 in a small community in Ontario. From there he eventually opened eleven more, mostly in small communities. Each pharmacy has been named Ben's Pharmacy to have a small town feeling.
Ben Smith makes no apologies about being an old-school pharmacist. Ben is the owner of a dozen pharmacies scattered throughout small towns in central Ontario. He attributes his achievements to an old-fashioned recipe of hard work, long hours, ongoing continuing education, generously giving back to the communities his pharmacies serve, being as accessible as possible to patients, and cultivating strong personal relationships with local physicians.
Ben joined ACA in 1990 and soon after NARD,- now NCPA- and ASCP in order to provide his area with the highest standard of pharmaceutical care. Ben continues to be the only Canadian pharmacist to be an active member of these three prestigious associations. He is also a member of the Ontario Pharmacists Association and the Canadian Pharmaceutical Association.
Ben served the College as President in 2013 and Chairman in 2014. He has served on the ACA Admission Committee for many years and plans to continue to serve the College for many years. Ben has represented ACA at numerous meetings throughout the US and Canada. He is always willing to help ACA with interviews and inspections for new Fellows and he serves on numerous ACA committees.
Ben is married and has three children. Ben and his wife Donna have attended many conferences over the years and have especially enjoyed the friendships and the valuable educational opportunities through the ACA.
The American College of Apothecaries is an international professional association of pharmacists and pharmacy students whose primary mission is the advancement of a professional pharmacy practice model through entrepreneurship and mentoring.
###