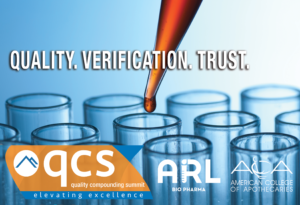 The American College of Apothecaries and ARL Bio Pharma announce the Quality Compounding Summit, from September 8-9 in Oklahoma City, OK, the compounding pharmacy industry's premier event focusing exclusively on quality issues. Pharmacists and pharmacy professionals from across the county are expected to attend to discover cost-effective solutions and new products and services to improve quality assurance.
The Quality Compounding Summit is a 2-day intensive conference presenting key topics designed to give pharmacy professionals and those that serve the industry, tools to succeed in the future. This event takes place at the Embassy Suites Downtown Medical Center, in Oklahoma City, OK.
"QCS is the best place to hear from industry experts and see new products and technologies that will help compounding pharmacies. No other event provides more insight into quality issues in compounding in just two information-packed days," says Dr. Thomas C. Kupiec, President of ARL Bio Pharma.
Education offered at this year's Quality Compounding Summit features sessions highlighting best practices, safety, facility design, and regulatory issues, including USP 800 and pharmacy inspections.
"I encourage everyone in pharmaceutical compounding to come and share ideas and build relationships with other professionals by attending the Quality Compounding Summit," says Donnie Calhoun, Executive Vice President/CEO of the American College of Apothecaries. "You'll see everything you need to streamline your company and take it to the next level. In just two days, you'll interact with product manufacturers, discover the latest innovations in the industry, and learn from leading experts to get a competitive advantage in the compounding marketplace."
Confirmed Presenters include:
USP <800> California Board of Pharmacy Implementations: How Pharmacists Can Incorporate USP <800> into Facility Design – Tony J. Park, PharmD, JD, California Pharmacy Lawyers
Root Cause Analysis for Compounding Pharmacists – Joe Cabaliero, RPh, Gates Healthcare Associates, LLC
Coping with the Changing Compounding Landscape – Loyd V. Allen, Jr., PhD, RPh, International Journal of Pharmaceutical Compounding
Microbiology Testing: USP Requirements for Sterile and Non-Sterile Preparations – Thomas C. Kupiec, PhD, ARL Bio Pharma
Beyond Use Dating – Thomas C. Kupiec, PhD, ARL Bio Pharma
Multistate Pharmacy Inspection Blueprint Program – State Boards of Pharmacy Regulatory Landscape for Inspections of Compounding Pharmacies – Elizabeth Scott Russell, RPh, National Association of Boards of Pharmacy
To learn more or register now, visit www.qcsummitrx.org.