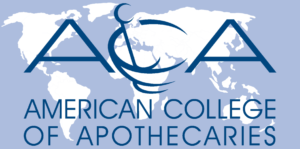 Just a year after establishing the Pharmacist Member, New Practitioner, and Dual Fellow membership categories, the American College of Apothecaries is once again expanding its scope in an effort to encourage and support independent pharmacy worldwide.  The ACA's new International Pharmacist Member category grants independent pharmacists working in countries outside of the United States and Canada access to the benefits, discounts, and opportunities for networking and professional development offered by the ACA at a reduced rate. ACA's sister organization, the American College of Veterinary Pharmacists, has also created an International Pharmacist Member level.
"We're contacted regularly by independent pharmacists around the globe who are interested in the services that ACA offers," said Donnie Calhoun, CEO | Executive Vice-President of the American College of Apothecaries and American College of Veterinary Pharmacists.  "We've even gone to London, England to provide on-site training. But we want to have a long-term relationship with our international pharmacists, provide them with all of the benefits of ACA membership, but also take into consideration differences in compensation worldwide."
The International Pharmacist Member category is open to any licensed pharmacist residing outside of the United States or Canada who meets the association's Practice Standards and has a $100 annual membership fee. Pharmacist members may apply for Fellowship at any time.
Information and online applications for membership may be found at www.acainfo.org/joinaca and www.vetmeds.org/joinacvp.