USP has proposed revisions to chapter <795> which creates minimum standards for compounding of nonsterile dosage forms for both human and animal patients. Attendees will learn about the changes from the current version of USP <795>, highlight key themes in the proposed changes, and prepare themselves to meet or exceed these new standards. In addition, attendees will learn how some the concepts coincide with the FDA's Insanitary Conditions Guidance document and the role this currently plays in pharmacy practice.
Tuesday, October 11, 2022
12 Noon Eastern / 11:00 am Central / 10:00 am Mountain / 9:00 am Pacific
ACA & ACVP Members: FREE
Non-Members: $20
Learning Objectives:
Define the changes in the proposed USP <795> compared to the current USP <795>
Illustrate the role that personnel and appropriate facilities play in limiting potential contamination of nonsterile compounds.
Analyze the key themes of the proposed USP <795> and how they coincide with the FDA's Insanitary Conditions Guidance
Plan to implement any changes needed for compliance and quality of nonsterile compounds.
This webinar does not offer CE.
Register below. After you register, you will be directed to Zoom to complete your sign up and receive your Zoom webinar links via email.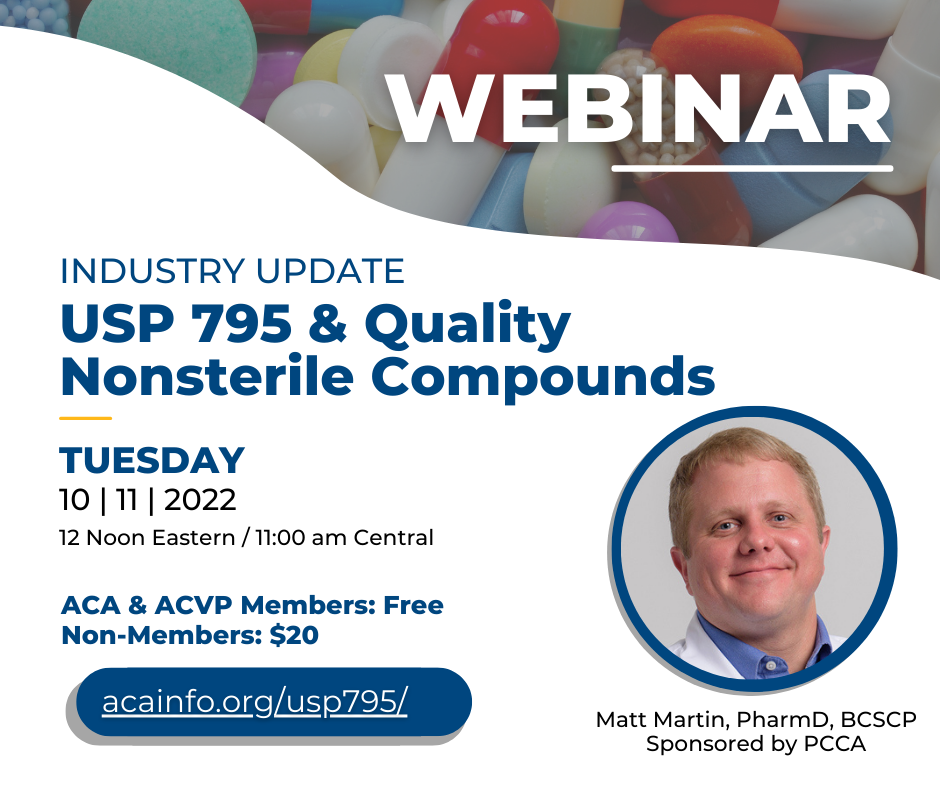 Matt Martin, PharmD, BCSCP, joined the PCCA Clinical Services team in September 2014 and now serves as Director of Clinical Services. He graduated from Morehead State University with a BS in Chemistry in 2002 and received his PharmD from the University of Kentucky College of Pharmacy in 2006. In 2020, Matt became board certified in Compounded Sterile Preparations through the Board of Pharmacy Specialties. Prior to joining the PCCA team, Matt worked in compounding pharmacy for more than eight years and has experience with both sterile and non-sterile preparations.