Take your place as a Compounding Faculty Member!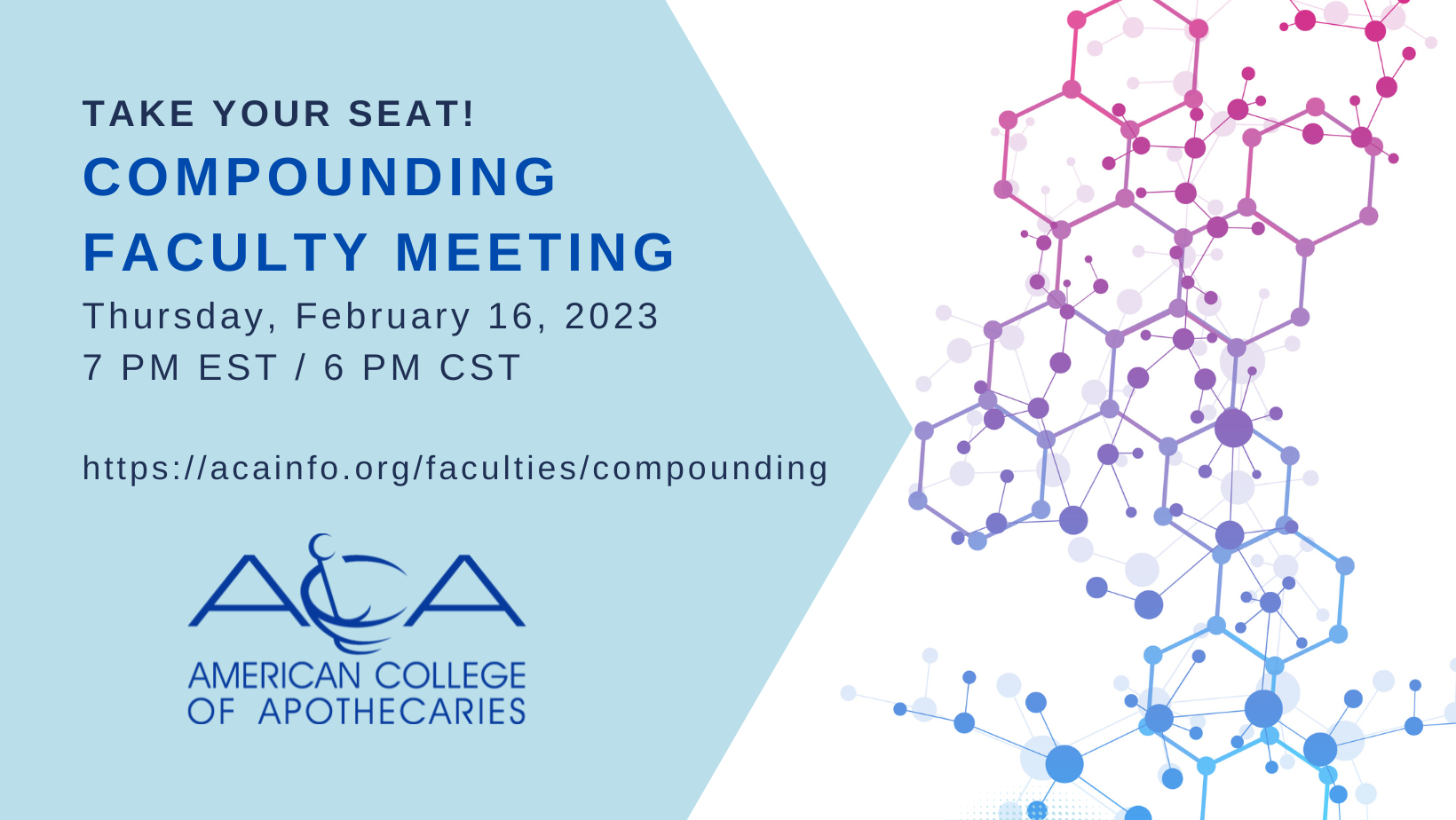 The Compounding Faculty will consist of individuals who have a passion for compounding – those with expertise in compounding and those who are in the process of developing their expertise – including pharmacists, pharmacy technicians, and student pharmacists.
Most meetings of the Compounding Faculty will not involve continuing education credit. Therefore, specific branded products may be discussed without violating ACPE guidelines. A member-only online community will allow Faculty members to communicate regarding topics of interest and get to know their fellow Faculty members.
Next Meeting:
Thursday, February 16, 2023
7 PM Eastern, 6 PM Central, 5 PM Mountain, 4 PM Pacific
Topic: Marketing Your Compounding Pharmacy
Panelists:
Saad Dinno
Gopesh Patel
Did you miss a meeting?
Sign in below or click the link to access a recording of the previous meeting:
The following content is accessible for members only, please sign in.
24/7 Online Community Exclusively for the Compounding Faculty—launching soon
In addition, members of the Compounding Faculty will have exclusive access to an online community to discuss, share, and give their views on micronutrients, deficiencies, products and supplements, interactions, testing, patient assessment, forms, software and apps, promotions, consultations, functional medicine, and much more.
Why faculties?
One of the College's strengths is the sharing of ideas – which historically has been accomplished through in-person meetings. ACA is augmenting these meetings with faculties that will assemble using digital technology – including Zoom, email, and an exclusive online community. Faculty involvement is intended to facilitate peer-to-peer networking and relationship building.
Your participation is a no-cost ACA membership benefit available to any individual member. Future faculties in development include the Practice Entrepreneurship Faculty.
For additional information or if you have questions:
Linda Cathey, Director of Membership Services – linda@acainfo.org — 901-383-8119