Take your place as a Nutrition & Wellness Faculty Member!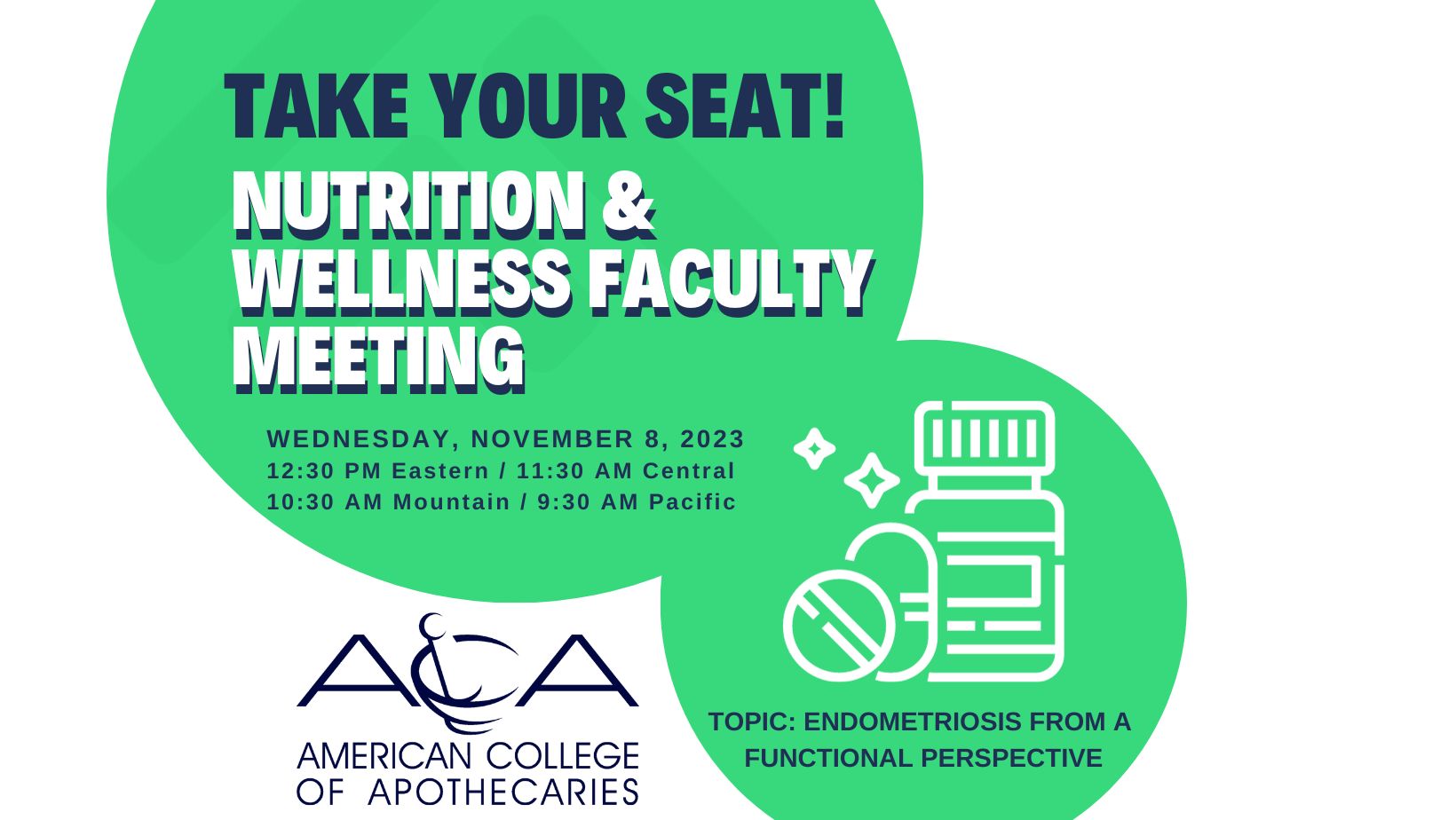 Nutrition & Wellness Faculty discussions will focus on topics about which members are passionate – including products, techniques, and opportunities. Members can learn from the experiences of others — what works, and what doesn't.
Topic: Endometriosis from a Functional Perspective
November 8, 2023
12:30 PM Eastern / 11:30 AM Central / 10:30 AM Mountain / 9:30 AM Pacific
Endometriosis:  A variable immune dysfunction, caused by multiple hormonal imbalances, including estrogen dominance, progesterone resistance, thyroid and adrenal imbalances, insulin resistance, systemic yeast infection(s) and auto-immune issues.
Host: Dr. Quentin Srnka, PharmD, MBA, FACA
Panelist:   
Ben Briggs, RPh, CNC, IACP is the Founder & Chief Executive Officer of Lionville Natural Pharmacy. He graduated with a Bachelor of Science in Pharmacy from Philadelphia College of Pharmacy, now known as the University of the Sciences in Philadelphia. He has been involved in some aspect of pharmacy for over 50 years. His background in pharmacognosy, biochemistry, pharmacology, homeopathy, & functional endocrinology led him to develop a holistic nutritional protocol entitled BENS SELF program.
Dr. Hillary Howell, PharmD, FACA, CCN opened Michigan's first integrative cash-based pharmacy, Apothecary Co. in 2019 focusing on helping others to find their root cause instead of applying a "bandaid". Apothecary Co. proudly specializes in compounding, point-of-care testing, and functional medicine consulting. Since opening in 2019, Hillary received her Certified Clinical Nutrition designation in 2021. She is currently pursuing a certification program through the Institute for Functional Medicine. Besides the love for functional medicine, her other passion is medicinal herbalism leading her to complete coursework through Rosemary Gladstar's The Science of Art and Herbalism program.
We're switching to a Zoom meeting format to encourage interaction among all of our participants, but of course, you can always leave your camera off and simply listen.
Click below to register.  After you register, you will be directed to Zoom to complete your sign-up and receive your Zoom meeting links via email.
By registering for this event, your contact information will be shared with the Corporate Sponsor.
Missed our last meetings? Click below to watch or listen to our past faculty meetings: 
Topic: Supplements for Sports
September 12, 2023
Panelist: Josh Regel, PharmD, FACA  &  Dr. Hillary Howell, PharmD, FACA, CCN
NOW AVAILABLE ON DEMAND –VIDEO
LISTEN – AUDIO ONLY
Topic: "Alzheimer's #1 Concern of Patients"
August 15, 2023
NOW AVAILABLE ON DEMAND –VIDEO
LISTEN –AUDIO ONLY
Topic: "Introduction to Advanced Point-of-Sale Functional Testing 101…"
June 7, 2023
NOW AVAILABLE ON DEMAND – VIDEO
LISTEN – AUDIO ONLY
Mark your calendar for our upcoming meetings:
2024 Topics Coming Soon…
Future Topics:
Top vendors — How do you select them? Why do you keep them?
Best software programs or apps to screen for drug-nutrient interactions
How to assess an individual's nutrient and/or nutritional needs
How to start charging for consultations
Sample intake (consultation) forms, printed or electronic
Promotional approaches that work
POC & lab testing basics
Lots of questions – and lots to share with other nutrition and wellness experts!
24/7 Online Community Exclusively for the Nutrition & Wellness Faculty
In addition, members of the Nutrition & Wellness Faculty will have exclusive access to an online community to discuss, share, and give their views on micronutrients, deficiencies, products and supplements, interactions, testing, patient assessment, forms, software and apps, promotions, consultations, functional medicine, and much more.
Why faculties?
One of the College's strengths is the sharing of ideas – which historically has been accomplished through in-person meetings. ACA is augmenting these meetings with faculties that will assemble using digital technology – including Zoom, email, and an exclusive online community. Faculty involvement is intended to facilitate peer-to-peer networking and relationship building.
Your participation is a no-cost ACA membership benefit available to any individual member. In addition to ACA's Nutrition & Wellness Faculty and Compounding Faculty, we have a third future faculty in development, which is the Practice Entrepreneurship Faculty.
For additional information or if you have questions: 
Linda Cathey, Director of Membership Services: linda@acainfo.org / Office : 901-383-8119