Take your place as a Nutrition & Wellness Faculty Member!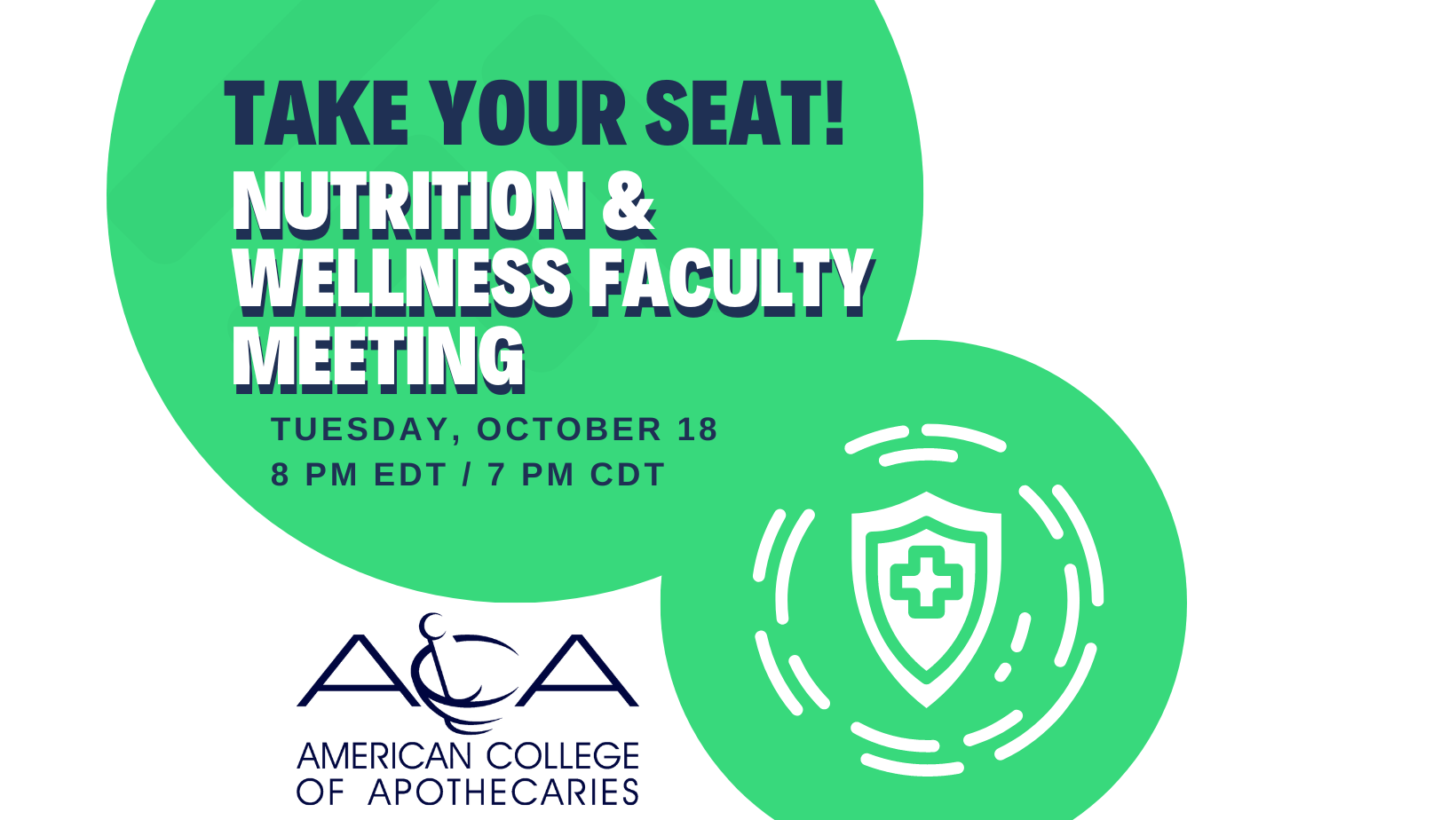 Nutrition & Wellness Faculty discussions will focus on topics about which members are passionate – including products, techniques, and opportunities. Members can learn from the experiences of others — what works, and what doesn't.

Join us for our next meeting:
Tuesday, October 18, 2022
8 PM Eastern, 7 PM Central, 6 PM Mountain, 5 PM Pacific
Topic: Nutritional Support for Immunity
Join us for a one-hour discussion of "Nutritional Support for Immunity"–a members-only benefit from the American College of Apothecaries.
We're switching to a zoom meeting format to encourage interaction amongst all of our participants, but of course, you can always leave your camera off and simply listen.
Panelists:
Hillary Howell, PharmD, FACA, CCN
Suzanne Keyes, PharmD, FACA, IFMCP
Steve Zielinski, PharmD, FACA
Click below to register.  After you register, you will be directed to Zoom to complete your sign up and receive your Zoom meeting links via email.
Mark your calendar for our upcoming meetings:
Tuesday, November 15 – 8pm ET/7pm CT – Symptom Mitigation for Cold & Flu
December – no faculty meeting
January date to be determined –  8pm ET/7pm CT – Healthy Lifestyle (especially weight management / inflammation / detox)
Future Topics:
Top vendors — How do you select them? Why do you keep them?
Best software programs or apps to screen for drug-nutrient interactions
How to assess an individual's nutrient and/or nutritional needs
How to start charging for consultations
Sample intake (consultation) forms, printed or electronic
Promotional approaches that work
POC & lab testing basics
Lots of questions – and lots to share with other nutrition and wellness experts!
24/7 Online Community Exclusively for the Nutrition & Wellness Faculty—launching soon
In addition, members of the Nutrition & Wellness Faculty will have exclusive access to an online community to discuss, share, and give their views on micronutrients, deficiencies, products and supplements, interactions, testing, patient assessment, forms, software and apps, promotions, consultations, functional medicine, and much more.
Why faculties?
One of the College's strengths is the sharing of ideas – which historically has been accomplished through in-person meetings. ACA is augmenting these meetings with faculties that will assemble using digital technology – including Zoom, email, and an exclusive online community. Faculty involvement is intended to facilitate peer-to-peer networking and relationship building.
Your participation is a no-cost ACA membership benefit available to any individual member. Future faculties in development include the Compounding Faculty and the Practice Entrepreneurship Faculty.
For additional information or if you have questions:
Quentin Srnka, Executive Vice President – quentin@acainfo.org
Linda Cathey, Director of Membership Services – linda@acainfo.org — 901-383-8119