At the American College of Apothecaries, American College of Veterinary Pharmacists, and Pharmacists Planning Services, Inc., public health and safety is our top priority.

Effective March 25, 2020, our office building will be closed; all staff will be working from home during our regular business hours, Monday – Thursday, 8:00 am-5:00 pm and 8:00 am-noon on Friday. We will not be answering the phones, but will be responding to emails using the contact form.

The ACA has cancelled training classes through May 31. At this time, registration for courses scheduled after June 1 remains open. We are working to reschedule cancelled courses for June and July so that we will be able to continue to provide needed compounding training for pharmacy professionals. We are also working to provide additional online training materials and accredited CE for pharmaceutical compounding and other topics on our  Online CE Portal.

We are actively following the Centers for Disease Control (CDC) and local state departments of health as well as local public health authorities so we can respond quickly to any shifts in their recommendations.

Click below to access our compilation of COVID-19 Information & Resources.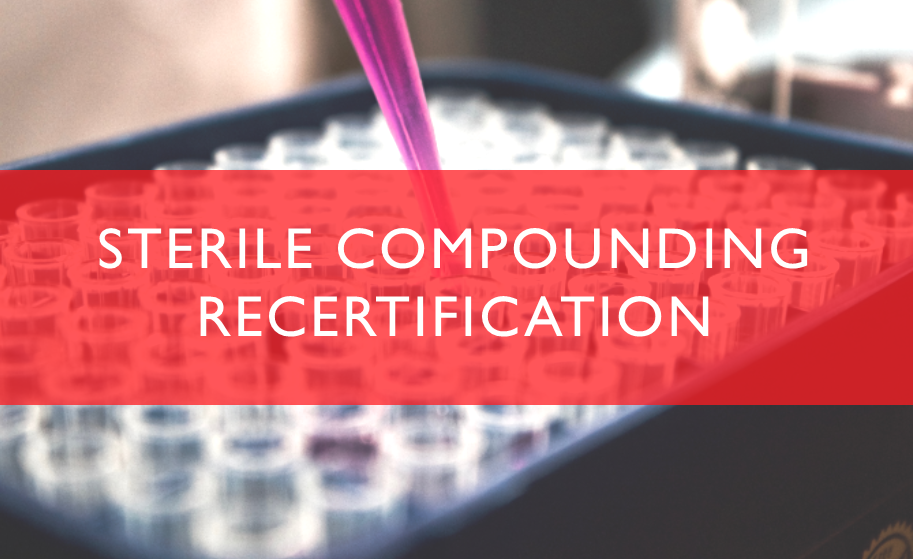 STERILE COMPOUNDING RECERTIFICATION is an add-on option for an extra fee on day three of the Advanced  Pharmaceutical Compounding Course.  This course may also be taken separately; registrants are not required to complete Advanced Pharmaceutical Compounding prior to this course. This recertification will be accompanied by 8 hour (0.8 CEUs) accredited CE credit. During the course, pharmacists and pharmacy technicians will complete <797> personnel training and evaluation in aseptic manipulation skills requirements, including: didactic review including theoretical principles, practical skills of aseptic manipulations, achieving and maintaining ISO Class 5 environmental conditions, media-fill testing of aseptic manipulative skills. Attendees will receive results via mail of media-fill testing and written examination to support knowledge gained.
REQUIREMENTS: Participants choosing this course should have a solid understanding of sterile compounding techniques and skills and must have completed a sterile compounding training course within the past seven years (ACA or other provider acceptable). After completing the online registration, a copy of a certificate of completion for an acceptable course must be emailed to training@acainfo.org in order to validate enrollment for the course.
Learn about the ACA Compounding Training Instructors at acainfo.org/faculty
*Funding for this course is provided in part by an unrestricted educational grant from Letco Med and the ACA Research and Education Foundation.
For assistance registering for a compounding training course or to check availability for a course that is closed to online registration, call 901-383-8119 or email training@acainfo.org.

Course Objectives
At the conclusion of this program, the participating pharmacist or technician will be able to:
Review specialty compounding of non-sterile to sterile dosage forms and practice high risk compounding and sterilization using sterility by filtration method
Define how to be trained conscientiously and skillfully by expert personnel in theoretical principles, aseptic manipulations, and maintaining environmental conditions
Evaluate visually on hand hygiene and garbing technique
Take part in successfully completing media-fill testing procedures, Gloved Finger Tip Sampling and written examinations in <797> principles
Course Fees
REGISTER EARLY & SAVE $70!
Special promotional pricing will be automatically applied to all registrations completed six weeks before the beginning of class. No code necessary; does not apply to pharmacy student fees, EVP, or ACA Compound Academy. The best value in compounding training just got a little better.
ACA Members
Pharmacist/Pharmacy Tech – $695
Non-Members
Pharmacist/Pharmacy Tech – $895
Physicians and other health care professionals are welcome to attend.
Maximum Class Capacity: 6 participants
CE Credit
Sterile Compounding Recertification, a practice-based course, has been approved for 8 contact hours (0.8 CEUs) of continuing education credit being obtained in the live programming with ACPE Universal Activity Numbers UAN: 0201-0000-20-007-L07-P/T. This UAN has an initial release date of 8/22/2020 and an expiration date of 8/22/2023. Attendees will be required to complete an evaluation form at the completion of the program. Attendees requesting CE will be required to provide their NABP e-Profile ID and birthdate (MMDD) to receive credit for any ACPE-accredited CPE session. Due to new ACPE regulations, if required information is received after 60 days, a $250 late fee will be assessed before CE will be processed.
Travel & Hotel Accommodations
Course participants are responsible for their own reservations and charges.
The ACA National Training Laboratory is located at 2830 Summer Oaks Dr., Bartlett, TN 38134.
Training is conducted in Wisconsin at Concordia University—Wisconsin School of Pharmacy is located at 12800 N. Lake Shore Dr., Mequon, WI 53097.
Special rates for course participants are available at a selection of nearby hotels; information is available at www.acainfo.org/hotels or contact the ACA office at 901-383-8119 or training@acainfo.org.
Cancellation Policy
30+ days before event – Full Refund
29-14 days before event – 50% Refund
13-1 days before event – No Refund
Classes are subject to cancellation due to circumstances beyond our control and you should always plan travel accordingly. We recommend purchasing travel insurance or booking with an airline that will allow you to reschedule your flight if the need arises.
ENROLLMENT POLICY
The mission of the American College of Apothecaries is to support the professional practice of the independent community pharmacist. Enrollment in ACA Pharmaceutical Compounding Training Courses is not limited to members of ACA, however, participants must meet one of the following criteria: own their own pharmacy; work for an independent community pharmacist as an associate; or work in a hospital, academia, or a pharmacy-related association. Participants registering as pharmacy students must be currently enrolled in an accredited school of pharmacy and be able to provide proof of status and class spaces may be limited.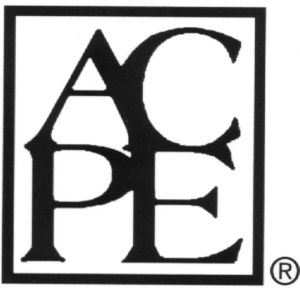 The American College of Apothecaries, Inc. is accredited by the Accreditation Council for Pharmacy Education as a provider of continuing pharmacy education. All sessions carrying the ACPE program number are approved for continuing education credit.