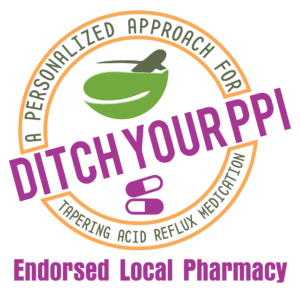 The American College of Apothecaries and DitchYourPPI.com have launched a continuing education program designed to train pharmacists in working with physicians and other health care providers to provide a medication tapering system for patients taking prescription and over the counter Proton Pump Inhibitors (PPIs).
"Thousands of patients are "stuck" on acid reflux medication, unable to stop taking their heartburn pill," said Juan Lopez, PharmD, Program Director of DitchYourPPI.com. "These patients are at risk of long-term negative side effects from chronic acid suppression therapy." Lopez adds that most PPIs are recommended for only 4 to 8 weeks of therapy, but patients often find themselves dependent on these drugs for years.
To address the overuse of PPIs and assist patients in discontinuing them without experiencing rebound acid reflux, Lopez developed the protocol used by Ditch Your PPI. A collaboration between pharmacist and physician, Ditch Your PPI creates a personalized program that includes counseling, nutrition, and a flexible taper schedule to meet the patient's unique and specific needs.
"When we heard Juan present about Ditch Your PPI at The Compounders Group meeting over the summer, we knew that we wanted to bring it our Fellows and members," said Donnie Calhoun, CEO and Executive Vice-President of the American College of Apothecaries. "This program is a win-win for our patients and pharmacists as independent pharmacies increase their consultation, nutrition, and wellness services."
The ACA "Ditch Your PPI" Pharmacy Accreditation Program consists of 5.5 contact hours of continuing education on the pharmacology, nutritional requirements, development and marketing of a patient care program. Participants also receive a "Ditch Your PPI" Toolkit and a one-year listing on www.DitchYourPPI.com as an Endorsed Local Pharmacy Provider.
More information on the ACA "Ditch Your PPI" Pharmacy Accreditation Program can be found at www.acainfo.org/DitchYourPPI.