Women Pharmacist Day, October 12, 2020, is a wonderful opportunity to recognize those women who have made – and continue to make – contributions to pharmacy practice and our patients' lives.
---
I decided that I wanted to become a pharmacist when I was in high school in the 1970s. I thought that this would be a good, flexible career for a woman, especially if I wanted to have a family. I was going to be the hometown girl working in the only pharmacy in my small hometown of New Palestine, Indiana. I never would have imagined the pathways that opened for me when I graduated from Purdue University School of Pharmacy and Pharmaceutical Sciences.
While I was at Purdue, I learned about a relatively new specialty —nuclear pharmacy. I was totally fascinated by it. I did a summer internship in it and worked for a year as a nuclear pharmacist. As in many cases, "the grass is always greener on the other side" and it turned out to be a very demanding career. Although I did enjoy the work, it was not a good fit for my plans of being married and raising a family.
I then went back to my original plan of working in a retail pharmacy. I am a "people" person and liked the interaction with customers. The job did turn into very long hours and it interfered with other interests. One of my Kappa Epsilon Fraternity sisters recruited me into the hospital pharmacy setting. Hospital pharmacy opened a lot of doors for me. There were a variety of options that I could do in a hospital – working in the outpatient pharmacy, working on the units, working in the central pharmacy, and homecare, but the area that really called to me was compounding. It was a huge lab with different gadgets and tools that I had never used or seen anywhere else. The pharmacist was always working with the clinical pharmacists and medical staff to come up with unique treatment options for patients. We were connected with the Indiana University School of Medicine and Riley Hospital for Children, so compounding was not only a specialized area, but a necessity because of our unique patient populations.
When the compounding pharmacist retired, I eagerly applied for the position and I have been the compounding pharmacist for the entire health-system since 1993. I absolutely love what I do, despite some of the administrative drama in hospitals, and it has opened more doors for me. After 15 years, I went back online, to get my PharmD through the University of Florida. To graduate, I had to do a project and I chose a project to counsel patients and/or their caregivers about their compounded medications and helped them to find pharmacies to compound them after discharge. I published my study in the International Journal for Pharmaceutical Compounding (IJPC) which was a new publication at the time and was asked to be a feature author for hospital topics. Wow! I didn't see that one coming. I loved writing in high school and college, but never expected to use those skills to become a professional writer as well as a pharmacist.
My published articles have opened other doors too. I have been invited to give presentations all over the world. I am also now giving live continuing education presentations, as well as developing written CEs. I have traveled to places that I never would have thought possible. I have been asked to be a contributing author for pharmacy and medical textbooks. I even wrote and published my own book, Compounding Guide for Ophthalmic Preparations.
Because of my commitment to compounding and my growing reputation as an expert compounding pharmacist, I have been able to get involved in a lot of unique opportunities. During this time, I also went back to school again to get my Masters from the University of Florida in Pharmaceutical Policies and Outcomes. I served one and a half cycles on the USP Expert Committee on Compounding. I am currently serving on an advisory committee for the Indiana State Board of Pharmacy to help revise and write the compounding regulations for the state of Indiana. I have also been selected to serve on the FDA PCAC committee for the next three years.
I am and have always been actively involved in my pharmacy fraternity, Kappa Epsilon. I became an officer at the local level and eventually became the President of the state alumni chapter. I eventually became involved nationally and served on the Grand Council. The "behind-the-scenes" bug had bitten me. As a member and eventually a full fellow of ASHP, I have served on several national committees and presented at the annual and Mid-year meetings. When I joined IACP, I soon ran for to become a member of the Board of Directors, serving 2 terms. Later, I was asked to join ACA as a full fellow and found myself again running to serve on the Board of Directors. Any organization that I have joined, I just don't want to pay my dues and sit back – I WANT TO BE ACTIVELY INVOLVED.
My activities and involvement have also gotten me through the darkest time of my life – losing my son, Daniel, to suicide in 2018. I was running for Vice President of ACA at the time and I almost quit everything. You never recover from losing a child, especially under unnatural circumstances, and for a while I was a little lost, but now I have a different perspective on life. I want to continue to be involved in all of my interests, enjoy life, spend time with my friends, colleagues and family, and do everything to the best of my ability. You never know what tomorrow will bring. I am looking forward to serving all of you as your ACA President in 2021!
Linda F McElhiney, PharmD, RPh, MSP, FACA, FAPC, FASHP, DPLA
Team Lead Compounding Pharmacist
Indiana University Health
Vice-President, Board of Directors
American College of Apothecaries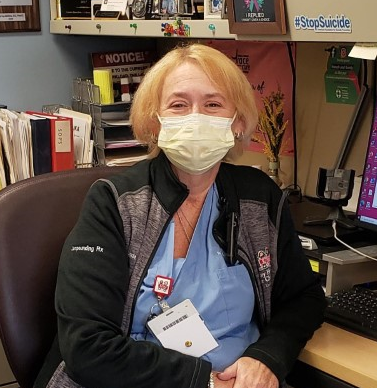 Linda F McElhiney, PharmD, RPh, MSP, FACA, FAPC, FASHP, DPLA
Team Lead Compounding Pharmacist
Indiana University Health
Vice-President, Board of Directors
American College of Apothecaries