RIO GRANDE, PR, February 25, 2022: The American College of Apothecaries presented the 2021 ACA Member of the Year Award to Vinnie Dam, PharmD, FACA, FACVP, of Los Angeles, California.
The award, established in 2013, recognizes an ACA Member for exceptional accomplishment and effort in serving his or her community and promoting community pharmacy through mentoring, entrepreneurship, and education, as well as support of the ACA.   The presentation was made during the Opening Session at the College's 2022 Annual Conference and Expo hosted at the Wyndham Grand Rio Mar.
This year's receipient of the ACA Member of the Year Award, Vinnie Dam, PharmD, FACA, FACVP, truly embodies the ACA entrepreneurial spirit and attitude:
 "Entrepreneurship allows for freedom and flexibility in creating and shaping a company. While entrepreneurs face operational challenges on a daily basis, it's what makes me excited to come to work. I always liked puzzles growing up, and I feel that being an entrepreneur requires constant utilization of one's critical thinking skills. If you don't mind hard work and long hours, and if you're an innovative thinker who is up for the challenges of the unknown, I highly recommend becoming an entrepreneur."
In 2017,  Vinnie applied his love for animals and compounding medications to an entrepreneurial path. A co-founder of  MixLab, a customer-driven veterinary compounding pharmacy, Vinnie currently serves as the Chief Pharmacy Officer.
Vinnie earned his Bachelor's Degree from the University of California, Los Angeles in 2003 and received a PharmD in Pharmacy Practice and MS in Regulatory Science from the University of Southern California in 2007.  As a dual ACA and ACVP Fellow, Vinnie has served the organization through serving on committees and encouraging his staff pharmacists to pursue Fellowship in ACA and ACVP.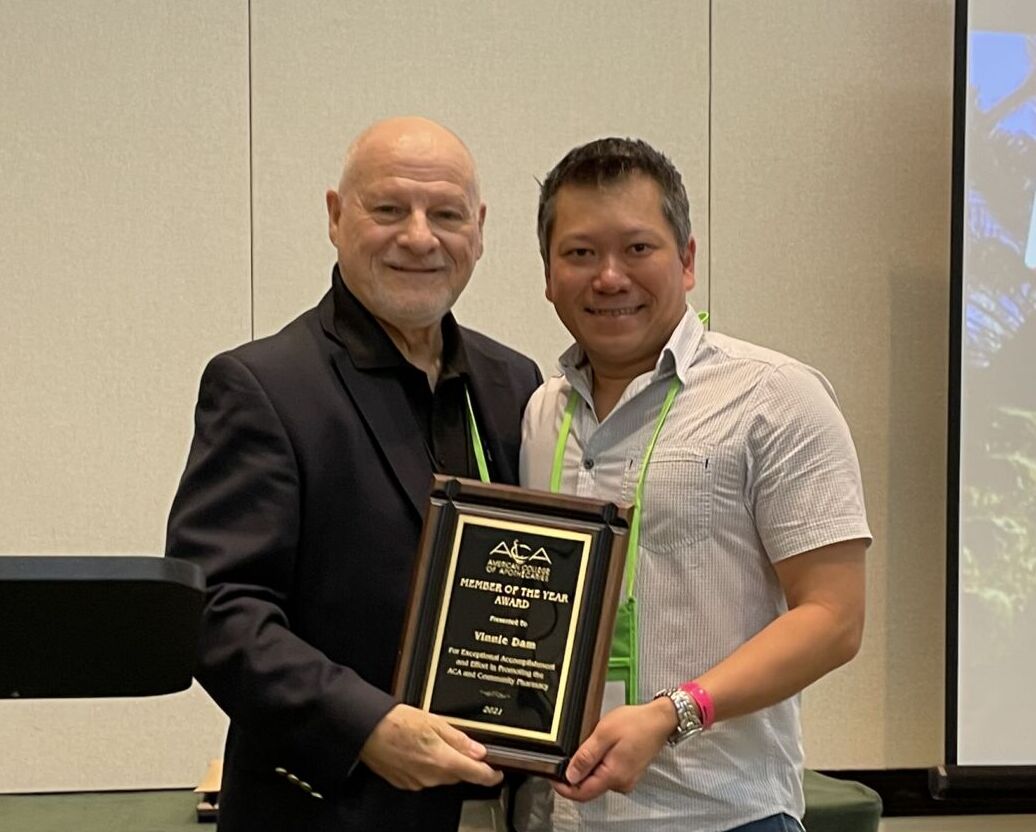 ACA 2021 Member of the Year Marisol Lopez with Executive Vice President Quentin Srnka