Functional testing focuses on physiological function (i.e. how the body functions at a biological level), rather than the presence of markers of disease. Community pharmacies are well-positioned to offer functional testing to patients who want a clear picture of their unique health needs and to also provide nutritional and lifestyle intervention. This presentation will provide examples and evidence-based information on the concept of integrating Advanced Point Of Sale Functional Testing in the pharmacy practice, including stool testing, breath testing, saliva testing, dried urine testing, food intolerance testing, and others. Advanced Point of Sale Functional Testing has the potential to increase pharmacy revenue, improve patient outcomes, and expand the scope of the pharmacist and pharmacy technician without requiring a CLIA waiver.
Now available On-Demand
ACA & ACVP Members: $20
Non-Members: $35
Learning Objectives :
Identify the different types of available testing to patients and the regulations.
Discuss the different types of advanced point of sale functional testing.
Discuss when to use the various types of advanced point of sale functional testing in practice.
Identify which type of training is recommended to offer advanced point of sale functional testing.
Compare the potential benefits and challenges to the patient and the practice.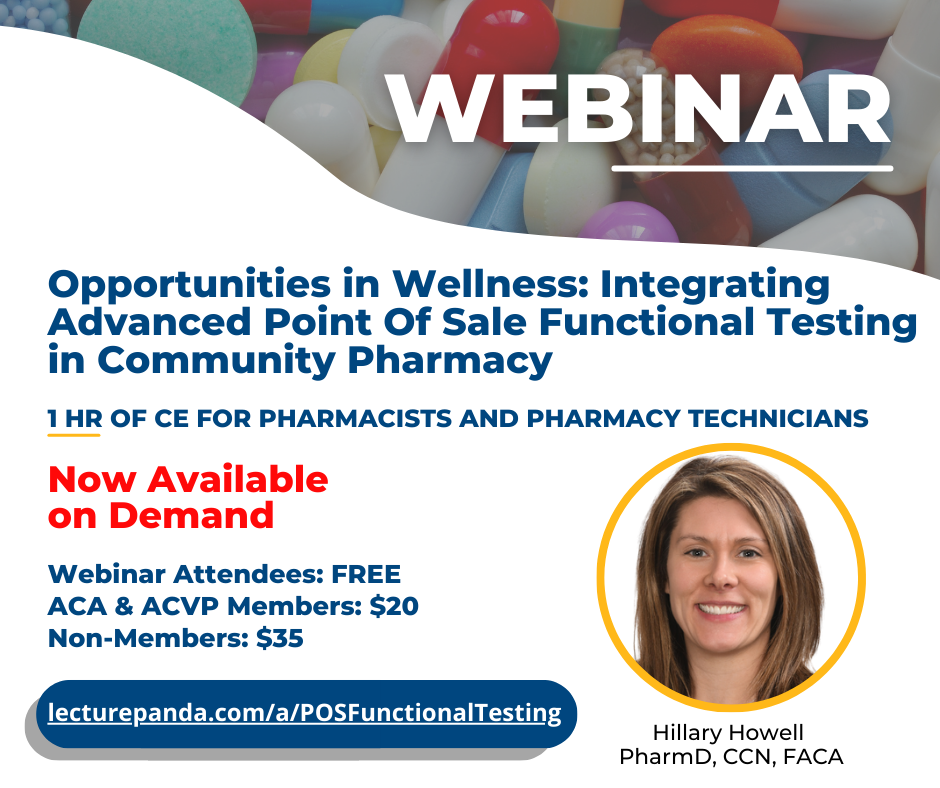 Hillary Howell, PharmD, CCN, FACA
As a young teenager, Hillary worked as a pharmacy technician until graduating high school in 1998. Her passion for medicine led her to enroll in the Doctor of Pharmacy program at Ferris State University and graduated in 2004. Shortly after graduating, she married her high school sweetheart and took a position as a retail staff pharmacist at a local pharmacy chain. This ultimately led to a manager position with the same company. Hillary has two children, Hunter and Tanner, which she adores. 10 years into her position as a manager, her husband James was diagnosed with a rare type of cancer, leiomyosarcoma of the prostate. During his journey, the family decided to look into alternative treatments using both conventional and alternative therapies. Sadly, James' journey ended 18 months later. As a single mother, Hillary decided to take her career in a new direction. She opened Michigan's first integrative cash based pharmacy, Apothecary & Co, in 2019, focusing on helping others to find their root cause instead of applying a "bandaid". Apothecary & Co proudly specializes in compounding, point of care testing, and functional medicine consulting. Since opening in 2019, Hillary received her Certified Clinical Nutrition designation in 2021. She is currently pursuing a certification program through the Institute for Functional Medicine. Besides the love for functional medicine, her other passion is medicinal herbalism leading her to complete coursework through Rosemary Gladstar's The Science of Art and Herbalism program.