Date:  Tuesday, August 15, 2023
Time:  12:30 PM Eastern / 11:30 AM Central / 10:30 AM Mountain / 9:30 AM Pacific
Topic: "Alzheimer's #1 Concern of Patients"

Host: Dr. Quentin Srnka, PharmD, MBA, FACA  
Panelists:
Dr. Hillary Howell, PharmD, FACA, CCN
Chuck Schneider, MBA
Join us for a 1 hour webinar on "Alzheimer's #1 Concern of Patients". Alzheimer's is the disease people of all ages are most worried about. Join the panelists as they discuss Alzheimer's disease, a relevant and emotional topic for patients.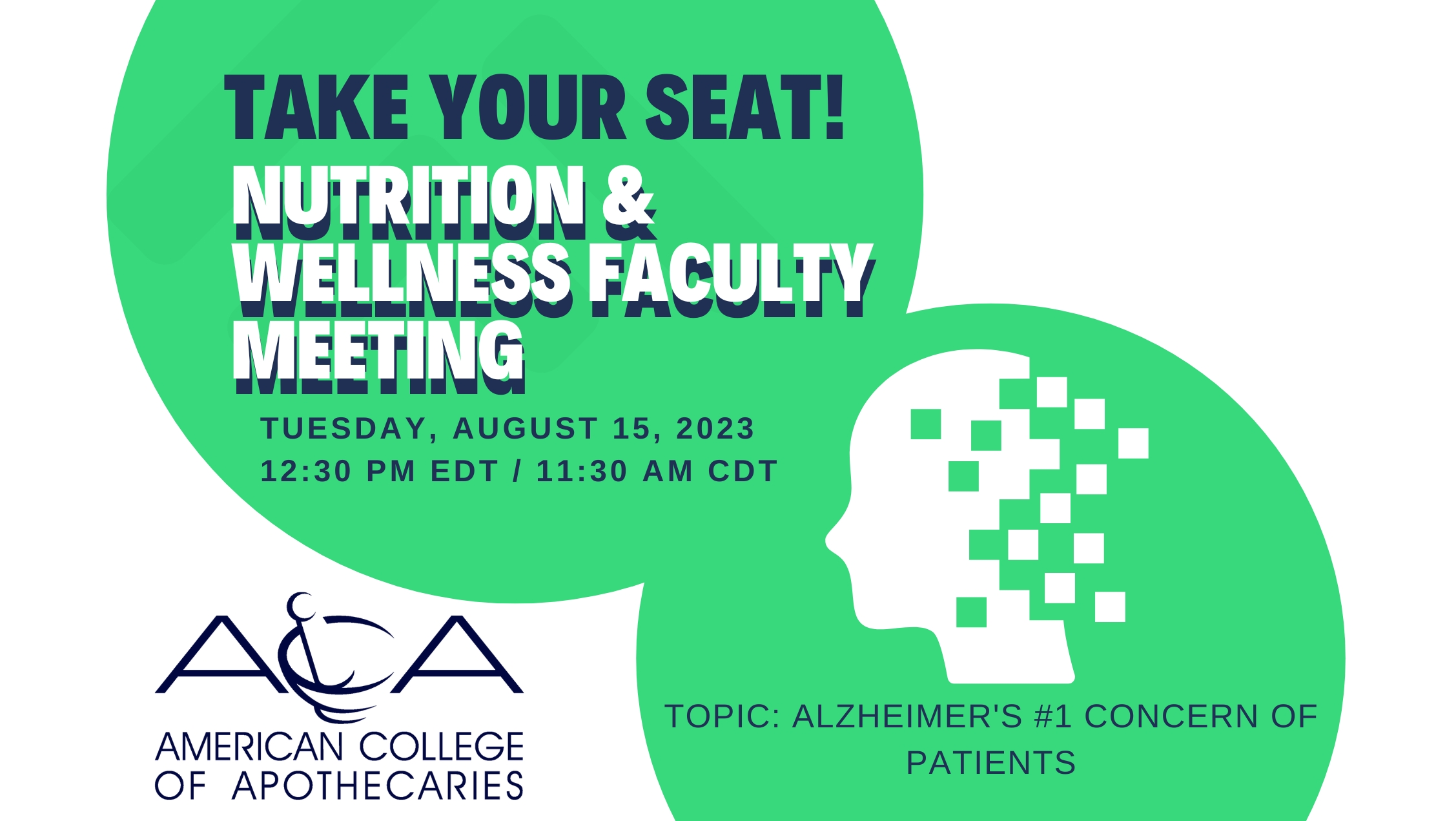 This meeting will be recorded

By clicking the Register button below, your contact information will be shared with our corporate sponsors for this event.
Our Panelists:
Dr. Hillary Howell, PharmD, FACA, CCN worked as a pharmacy technician until graduating high school in 1998. Her passion for medicine led her to enroll in the Doctor of Pharmacy program at Ferris State University and graduated in 2004. Shortly after graduating, she married her high school sweetheart and took a position as a retail staff pharmacist at a local pharmacy chain. This ultimately led to a manager position with the same company.
Hillary has two children, Hunter and Tanner, which she adores. 10 years into her position as a manager, her husband James was diagnosed with a rare type of cancer, leiomyosarcoma of the prostate. During his journey, the family decided to look into alternative treatments using both conventional and alternative therapies. Sadly, James' journey ended 18 months later.
As a single mother, Hillary decided to take her career in a new direction. She opened Michigan's first integrative cash based pharmacy, Apothecary & Co, in 2019, focusing on helping others to find their root cause instead of applying a "bandaid". Apothecary & Co proudly specializes in compounding, point of care testing, and functional medicine consulting. Since opening in 2019, Hillary received her Certified Clinical Nutrition designation in 2021. She is currently pursuing a certification program through the Institute for Functional Medicine. Besides the love for functional medicine, her other passion is medicinal herbalism leading her to complete coursework through Rosemary Gladstar's The Science of Art and Herbalism program.
Chuck Schneider, MBA is the Co-founder of the Point of Care Testing Institute and is the Director of Pharmacy at Cognivue, a neuroscience testing company.
For the past decade, Chuck has worked closely with pharmacists and independent pharmacy owners to help them increase their service lines and profitability.  Prior to joining Cognivue, Chuck was the chief revenue officer at Pharmacy Development Services and more recently at Ananda Professional where he led commercial operations.
Chuck received his MBA from the Thunderbird School of International Management.  Chuck lives in Lexington, Kentucky.  He enjoy running, cooking on Sunday nights, and visiting National Parks.