Full Circle: Inadequate Health Care Maps A Return to My Homeland
A little about the country where I was born before migrating to the United States. I was born in Accra, which is the capital city of Ghana. Although I came to the U.S. at a young age, I can recall several things I learned from my early school days and family.
Ghana, located in the western part of Africa, was the first place the sub-Saharan trade occurred. It was where Europeans arrived to trade – first in gold and later in slaves. Ghana was formerly called Gold Coast. It was also the first Black, African nation in the region to achieve its independence from the British in 1957. Ghana is a multilingual country constituted of about 80 languages or more spoken by the local people.
"The lack of clinic accessibility that I witnessed during my younger years living in Ghana ignited a burning desire to do something about these issues when I started my journey in the medical field."
But English, which was from the Colonial period, became the official language. And of the languages indigenous to Ghana, Akan (Ashanti) is the most widely spoken. Ghana is the world's second-largest cocoa producer behind Ivory Coast and Africa's biggest gold miner after South Africa. Also, Ghana has become one of the continent's fastest-growing economies and has made major progress in the attainment and consolidation of growth.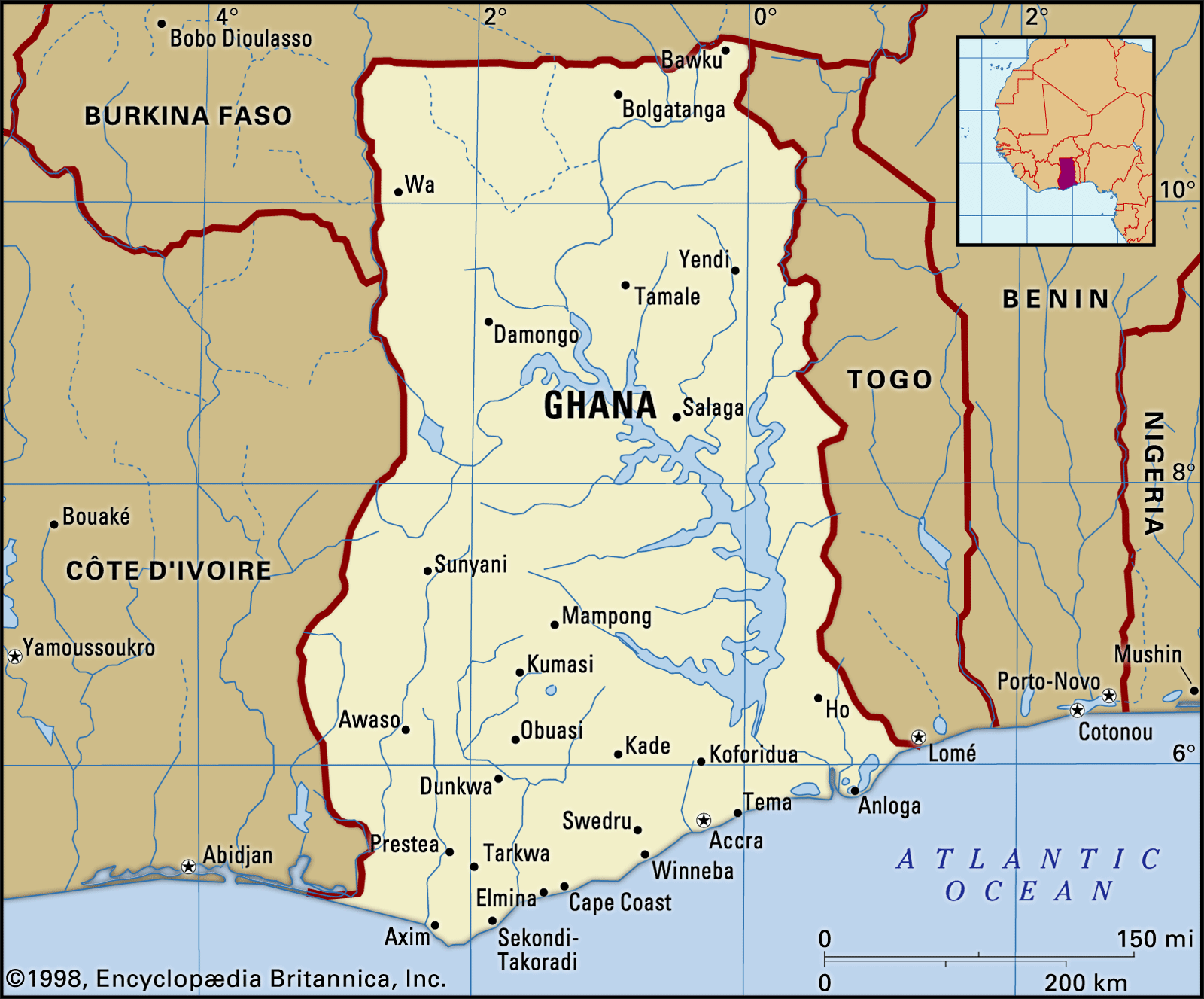 Significant progress has been made in poverty reduction. Ghana is the first country in Sub-Saharan Africa, to achieve the Millennium Development Goal-1, which is the target of halving extreme poverty. Ghana has recently become a middle-income country. The discovery of offshore oil reserves was announced in June 2007, encouraging a crucial economic increase.
Some of the challenges Ghana faces that I can recall or are still going on in the country is their healthcare system ineffectiveness, combating malaria, and healthcare disparities between the wealthy and the poor. Malaria remains a public health concern as it is the leading cause of morbidity and mortality in Ghana.
There are rural‐urban disparities in health care services that contribute to poor healthcare outcomes. Poor people are prone to die immediately after contracting an illness due to a lack of healthcare access and money.
The challenges that Ghanaians face daily in the country were one of the reasons why I joined the healthcare field to become a pharmacist. The knowledge that I plan to acquire from practicing as a future pharmacist would enable me to help devote myself to fighting against malaria, healthcare disparities, and the lack of healthcare access in Ghana.
Although I have not been back to Ghana since I came to the United States, I have been following what is going on in Ghana through the news, family members, and social media. That way, I am current with things going on in the country.
During my few years in Ghana, I remember when I was a child, I was always sick due to malaria. But since there wasn't any clinic in proximity from our house, my parents had to drive about an hour and a half to another town where the only clinic available in that region was.
Most times, we would spend the entire day or hours before been seen by a physician. And other times, the clinic would be so packed and busy that we had no choice but to go home without been attended to by a nurse or a physician.
Usually, when this happens which was very frequent, my family would return me back home only to be treated with herbal medications made by family members.
The lack of clinic accessibility that I witnessed during my younger years living in Ghana ignited a burning desire to do something about these issues when I started my journey in the medical field. After completing my pharmacy education, I would like to go back to Ghana and contribute to improving the healthcare system.
I plan to establish mini-clinics all across the regions in the country, especially in areas where the majority of the citizens are unable to afford to go to the clinic when sick. I also plan on working with the department of health in Ghana to push and establish legislations which would improve the distribution of medications and other essential health items which may help reduce the overall well-being of individuals.
It has always been a dream of mine to improve the healthcare system not only in Ghana, but other parts in Africa where my services and dedication are warranted.
Emmanuel Duah, a P4 student pharmacist at Shenandoah University's Bernard J. Dunn School of Pharmacy in Virginia, is the associate rotation management intern in September at ACA.
My Game Plan: Where Drugs Intersect in an Athlete's Recovery
Before applying to pharmacy school, I was uncertain about what I wanted to contribute to the healthcare field. But I had a passion for sports and wanted to work in that area in the future.
Therefore, I decided to volunteer at a physical therapy sports and rehabilitation clinic. While there, I was able to gain some knowledge on how
therapists manage and treat an array of muscle and joint pains in patients, especially amongst athletes.
I also volunteered and shadowed some medical doctors working at the emergency department at a hospital. While there, I was able to experience the working environment and expectations as a physician.
These experiences were keys to shaping my future. They directed my attention to medication use in patients. I became fascinated by how these drugs exert their mechanisms of action in the body to make people feel better.
With this ambition in mind, I decided to enroll in school. After getting accepted at a local college, I decided to take prerequisite core science classes such as organic chemistry, physics, biology at a community college while obtaining an associate degree in exercise science. I continued my education at Salisbury University where I was able to also obtain a bachelor's degree in kinesiology and a minor in health.
I started a dual pharmacy program in 2018 with the possibility of achieving a doctorate degree and a master's degree in pharmacogenomics, though I did not know what to expect since I had little to no exposure to the field, I was very excited about the opportunity at hand. Although I had little knowledge going into pharmacy, the journey of the pharmacy program was fascinating yet tedious, with sleepless nights, failing exams, questioning myself if I've made the right decision of becoming a pharmacist.
But looking back as I am in my final year of pharmacy, I can attest that it was a great experience. But most importantly, achieving the goal of knowing how medications prescribed to patients work.
After I graduate from pharmacy school, I would like to continue my education by completing a residency and specialize in ambulatory care pharmacy practice where I would be able to work directly with patients in outpatient settings. My ultimate goal is to have my own independent pharmacy clinic gearing toward athletes, chronic disease management and patients who are not able to exercise without the presence of healthcare personnel.
Athletics provided outlet, then career goals for pharmacy student
ACA student intern who immigrated to U.S. rises from humble upbringing
A fourth-year pharmacy student at Shenandoah University, my route into the field of studying pharmacy undertook a winding, unconventional route from … soccer fields. Originally from Ghana, West Africa, I moved to the U.S. at a young age and acclimated to my new country in the projects of Riverdale, Maryland.
Growing up in a single-parent household was very hard, and particularly so for the fact that my mom confronted having to navigate a foreign land, gaining employment and providing enough food for the household. Such challenges made it uncommon for my family to remain settled in any one apartment for very long, prompting moving from place to place a routine.
In this environment, I often interacted with people involved in gangs and selling drugs on the streets. But through my faith in God and my mother's devoted prayers, I circumvented these surrounding trappings by focusing on and enjoying athletics during by teenage years.
Through sports, I discovered a safe haven from what was happening around me. In high school I was ranked as one of the best soccer players in the entire DMV area (DC, Maryland, and Virginia) and was offered a couple of scholarships to attend college.
The pursuit of playing professional soccer, in circumspect, was the lone vehicle I believed could help me potentially assist my mother financially. My interest pivoted to the medical field, though, when my hopes and dreams of becoming a pro athlete closed. With a dim prospect of securing a "good job" as high school ended, I chose to focus harder on education so I would be able one day apply this knowledge toward my first love, athletics.
Although there isn't a discipline in pharmacy dedicated specifically to athletes or sports, I am hoping to discover, improve and perhaps innovate on this area as a future pharmacist. Athletes, often prone to injuries, are generally prescribed medications such as narcotics to ease their pain during recovery, and this application can be better studied and refined.
My goal to become a future pharmacist is to work with injured athletes and to prevent unintended side effects, drug abuse, drug-drug interactions, sub-therapeutic, and prevent the progression of their ailment. Instead, I want to help them return to competing not just quickly, but appropriately and safely.
By the time I graduate from pharmacy school I will have earned four higher educational degrees. I will be proud of this accomplishment and am looking forward to a point in my future career where my training and passion for sports converge.
As I reflect upon landing solo at Logan International Airport in Boston as a child and then adjusting to culture on a different continent, I see how the long journey with many trials and tribulations helped toughen me. To reach my fullest professional potential, I will continue to rely on prayers, academic discipline, and perseverance from not taking no for an answer, as well as a drive to constantly prove myself.
Emmanuel Duah, a P4 student pharmacist at Shenandoah University's Bernard J. Dunn School of Pharmacy in Virginia, is the associate rotation management intern in September at ACA.