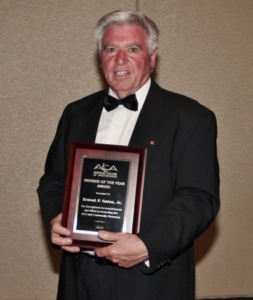 Fort Lauderdale, FL, February 7, 2014:
The American College of Apothecaries presented the 2013 Member of the Year Award to Ernest P. Gates, of Middleton, Massachusetts at the College's 2014 Annual Educational Conference at the Marriott Harbor Beach Resort in Fort Lauderdale, Florida. The presentation was made during the Presidents Banquet Friday evening, February 7th. This award, established in 2013, recognizes one ACA member, on an annual basis, for exceptional accomplishment and effort in promoting the College and community pharmacy.
Ernie Gates is the President of Gates Healthcare Associates, where he provides strategic advice, counsel, and support to a broad cross-section of health care organizations, including hospitals, physician practices, pharmacies, and professional associations.
A pharmacist and entrepreneur, he is a pioneer in the fields of pharmacy compounding and fertility medication. Ernie founded and later sold Gates Apothecary, one of the largest compounding pharmacies in the U.S., which became Freedom Drug and then Priority Health Care. He has consulted nationally to physician groups on the topics of women's health and compounds for fertility and hormone replacement therapy. He has won numerous awards and honors, including the 2009 Honorary Fellowship Award from the International Academy of Compounding Pharmacists. Clients across the world often seek Mr. Gates' guidance on the development of compounding pharmacies and their related licensure, certification, and accreditation. Ernie developed the lozenge mold, a tool commonly used in compounding pharmacies today.
As an ACA Fellow, Ernie currently serves on the ACA's Admission Committee. He has put in countless hours making phone calls, pharmacy inspections and interviews, helping to complete the files for New Fellow Applicants. Ernie is personally responsible for the induction of several New Fellow memberships in 2013.
He holds a Bachelor of Science degree from the Massachusetts College of Pharmacy and Health Sciences, where he is a Trustee Emeritus.
The American College of Apothecaries is an international professional association of pharmacists and pharmacy students whose primary mission is the advancement of a professional pharmacy practice model through entrepreneurship and mentoring.