The ACA New Member Bundle is accredited for 3.0 contact hours (0.3 CEUs) of continuing education credit for pharmacists and pharmacy technicians.
Opportunities in Wellness: Integrating Advanced Point of Sale Functional Testing in Community Pharmacy — Hillary Howell, PharmD, CCN, FACA / 1 CE
Long Walk Out of the Woods: A Physician's Story of Addiction, Depression, Hope, and Recovery — Adam Hill, MD / 1 CE
Safeguard Your Compounding Pharmacy: Quality Control Tests for Dosage Forms and Common Pitfalls — Thomas C. Kupiec, PhD / 1 CE
Shortly after joining ACA, new members will receive a "Welcome Email" with a code to receive the ACA New Member Bundle at no cost*. Current members and non-members can purchase the bundle here: https://www.lecturepanda.com/a/NewMember
ACA New Member Bundle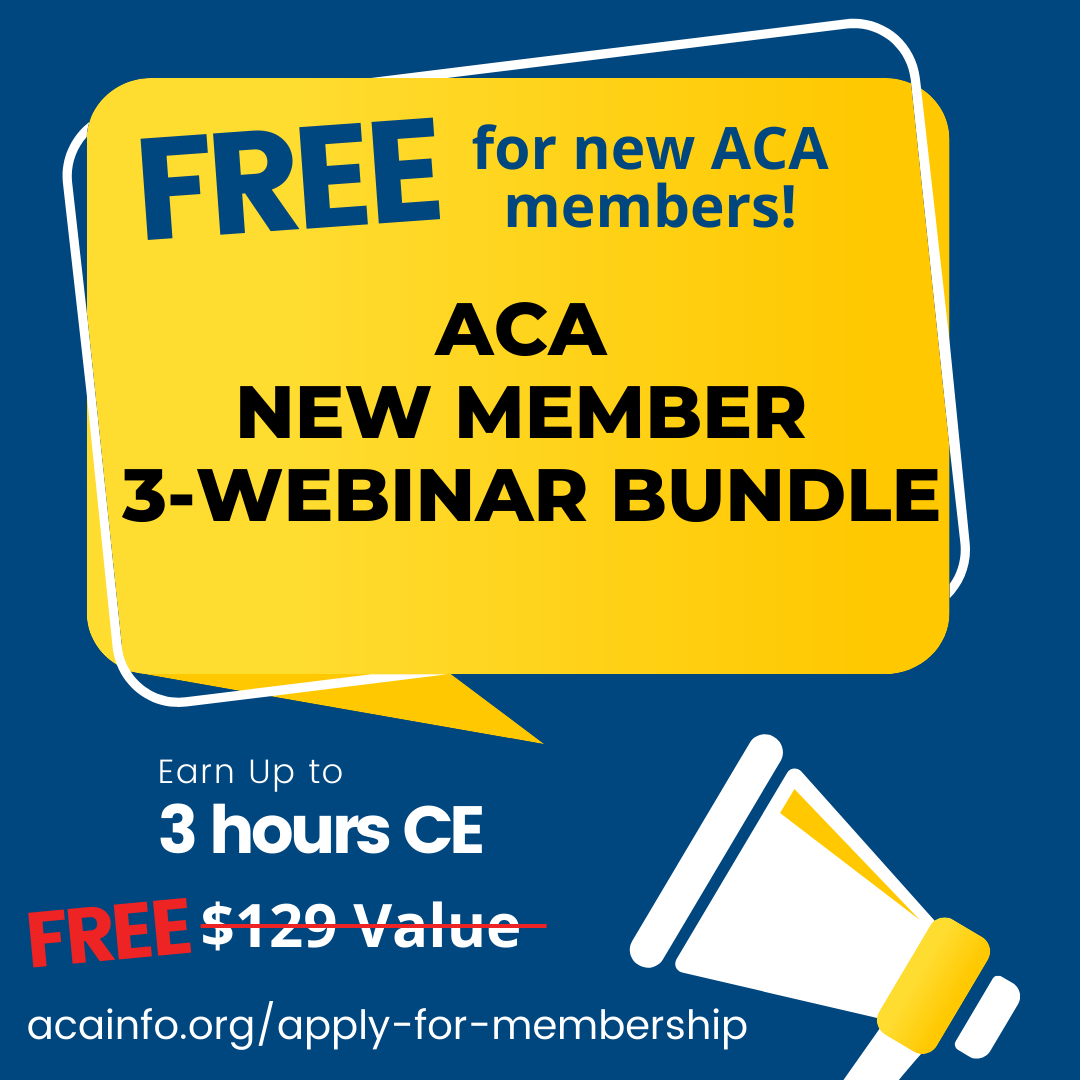 *does not apply to Student Pharmacist Members
Our Speakers:
Dr. Hillary Howell, PharmD, FACA, CCN worked as a pharmacy technician until graduating high school in 1998. Her passion for medicine led her to enroll in the Doctor of Pharmacy program at Ferris State University and graduated in 2004. Shortly after graduating, she married her high school sweetheart and took a position as a retail staff pharmacist at a local pharmacy chain. This ultimately led to a manager position with the same company.
Hillary has two children, Hunter and Tanner, which she adores. 10 years into her position as a manager, her husband James was diagnosed with a rare type of cancer, leiomyosarcoma of the prostate. During his journey, the family decided to look into alternative treatments using both conventional and alternative therapies. Sadly, James' journey ended 18 months later.
As a single mother, Hillary decided to take her career in a new direction. She opened Michigan's first integrative cash based pharmacy, Apothecary & Co, in 2019, focusing on helping others to find their root cause instead of applying a "bandaid". Apothecary & Co proudly specializes in compounding, point of care testing, and functional medicine consulting. Since opening in 2019, Hillary received her Certified Clinical Nutrition designation in 2021. She is currently pursuing a certification program through the Institute for Functional Medicine. Besides the love for functional medicine, her other passion is medicinal herbalism leading her to complete coursework through Rosemary Gladstar's The Science of Art and Herbalism program.
Dr. Adam B. Hill, MD is a palliative care physician at Riley Hospital for Children. He is a proud Hoosier, a Butler Bulldog, and an IUSM graduate. He completed his pediatric residency training at St. Louis University, a fellowship in pediatric hematology/oncology at Duke University, and a palliative medicine fellowship at IUSM. His work in palliative care is focused on allowing patients to live the best quality of life possible in the midst of chronic, life-limiting, and/or life-threatening medical conditions.
In addition to palliative care, Dr. Hill is passionate about physician wellness/self-care, physician education, and international medical work. His international work has allowed him to work in Belize, Mexico, Kenya, Tanzania, and Australia over the past several years. In addition, as part of his work in palliative care, he serves as the medical director for a week-long summer camp for children affected by childhood cancer.
Dr. Thomas C. Kupiec, PhD is the CEO of ARL Bio Pharma and DNA Solutions Inc. Dr. Kupiec received his Ph.D. in Pharmaceutical Sciences from the University of Oklahoma Health Sciences Center College of Pharmacy. He currently serves as a graduate faculty member at the OU Health Sciences Center and has held teaching appointments at several universities. He has published numerous articles and abstracts in a variety of fields including pharmaceutical sciences, forensic sciences, and pharmacogenomics. Dr. Kupiec is often requested as a speaker at national pharmaceutical conferences and has spoken at ASHP, IACP, ACA, and state pharmaceutical associations.
Dr. Kupiec's vision of entrepreneurial research is manifested by his responsibilities at DNA Solutions and ARL, which include supplying technical expertise and business development in the pharmaceutical and forensic fields. Additionally, Dr. Kupiec offers consultation services for a variety of pharmacy-related fields as well as expert witness testimony in the fields of forensic toxicology and pharmaceutical sciences. He has testified in over a hundred cases, both civil and criminal, in federal, state, and municipal courts.
His professional experience includes various appointments at Northwest Toxicology Inc. (NWT), the Federal Aviation Administration (FAA), and the Oklahoma City Police Department. Dr. Kupiec is affiliated with numerous professional organizations, including the American Academy of Forensic Sciences, the American Association of Pharmaceutical Scientists, the American Society of Health-System Pharmacists, the Society of Forensic Toxicologists, and Sigma Xi, The Scientific Research Society.